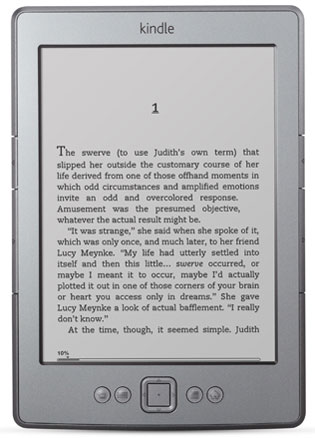 Amazon just released a new $79 Kindle available for immediate shipment. I ordered one to review and it should arrive on Friday. I'll post a full Kindle 4 review and some videos over the weekend and next week.
In the meantime, let's go over all the available information about the new Kindle 4 in this quick review.
First off, there are two versions, one with ads and one with out. The non-ad Kindle 4 costs $109 and the Special Offers Kindle is of course $79. The ads and coupon special offers are displayed on the screen savers and at the bottom of the homescreen, not while reading.
To get the price so low, Amazon had to sacrifice some of the features. The keyboard was axed, and so was audio support—no speakers or headphones, so no text-to-speech either. Otherwise the user interface and feature-set is pretty much exactly the same as the Kindle 3, aka Kindle Keyboard.
This $79 Kindle 4 is the basic model; there's a new touchscreen Kindle as well, simply called the Kindle Touch, available with optional 3G wireless. Not to mention the Kindle Fire Tablet.
The Kindle 4 is the only new Kindle currently available. The Kindle Touch and Kindle Tablet will hit the streets in the second half of November.
Kindle 4 Specs ($79/$109 Kindle)
6″ E Ink Pearl screen
600 x 800 pixel resolution at 167 ppi, 16-level gray scale
2GB internal memory (1.25 available)
Wi-Fi
USB 2.0 port
5-way controller
Page buttons on both sides (they are hard to see in the picture)
Supported formats: AZW, TXT, PDF, unprotected MOBI, PRC natively; HTML, DOC, DOCX, JPEG, GIF, PNG, BMP through conversion
Battery Life: up to 1 month with wireless off, 3 weeks with WiFi on
Dimensions: 6.5″ x 4.5″ x 0.34″
Weight: 5.98 ounces
Kindle 4 Features
8 Font sizes
3 font types
Faster page turns
Supports Non-Latin Characters
Image zoom
Portrait and landscape modes
Real page numbers (Amazon said that months ago and I'm still yet to read a book with them)
Built-In dictionary
Wikipedia and web search
Free Cloud Storage for all Amazon content
Collections
Web browser
Add bookmarks, notes, highlights
View popular highlights and public notes option
Lend ebooks (only works if publisher approved)
Whispersync keeps everything updated—last page read, annotations, etc
Set default language: English (US and UK), German, French, Spanish, Italian, Brazilian Portuguese.
Subscribe to The eBook Reader Blog to keep updated on the latest Kindle reviews and news, or follow on Facebook, Twitter, and YouTube.