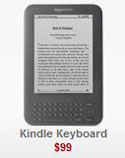 It looks like Amazon is going to continue to sell the Kindle 3 along with the new basic Kindle and Kindle Touch for those that want a keyboard, but instead of calling it the Kindle 3 it is now called the Kindle Keyboard and Kindle Keyboard 3G.
Amazon also dropped the price of the Special Offers Wi-Fi Kindle from $114 to $99. All the other prices remain the same, however. The non-ad version is still $139 and the 3G Special Offers Kindle is $139, $189 without ads.
It's good to have options, but with so many Kindles it is going to really confuse new customers. Counting the ad-supported variations and Kindle Fire Tablet, there are now eleven different Kindles to choose from.