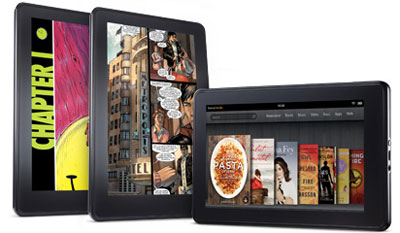 Yesterday Amazon started taking pre-orders for their much-anticipated new Kindle Fire Tablet. Priced at $199, it is one of the best deals for a budget tablet this fall, but it does lack a few things that keep it from being the hands-down best option.
This will differ for each individual, we all have our own preferences and opinions, but for me the Kindle Fire lacks three really important features that a tablet needs to have.
#1. No memory expansion. There are no memory card slots, and no USB host (it has a mini USB port for transferring files). No matter what you are stuck with the 8GB of storage that it comes with. Sure, the Kindle Fire comes with free cloud storage, but that only applies to Amazon's content.
#2. No HDMI port. I can't believe the Kindle Fire with it's access to 100,000 movies and TV shows doesn't have an HDMI port. Even crappy sub-$150 tablets like the Pandigital Star have an HDMI out port for connecting to a TV.
#3. The Kindle Fire runs on Android 2.3 Gingerbread, but it is closed off. It's not like a regular open Android tablet with a customizable homescreen, widgets, Android Market, or any of that. It has Amazon's customized interface and the Amazon appstore. The Kindle Fire may run Android but it is an Amazon tablet, not an Android tablet (hackers will fix that in about 2 days after its release).
Don't get me wrong, the Kindle Fire is a good starter tablet for Amazon. It has a lot of nice features, especially the IPS screen and dual-core processor, and will compete with the Nook Color very well, but it certainly isn't breaking any new ground in the tablet world.