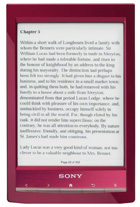 Here's the link to the Sony Reader PRS-T1 review. I was finally able to get it wrapped up today. The review ended up being way too long for one page so the PDF review and video are located on the second page, along with information about the web browser and audio player.
I plan on doing some more secondary reviews for the web browser, downloading library ebooks, and some of the other features, not to mention comparison reviews, so stay tuned for more updates.
Feel free to ask any questions about the Sony PRS-T1 below and I'll do my best to answer them.