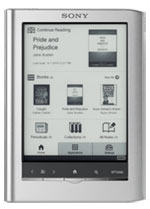 Sony has had refurbished PRS-350's available for a long time. The problem is that they've been selling them for $153—seriously, who's going to pay more for a refurbished PRS-350 than a brand new PRS-T1.
Finally, Sony put a reasonable price on the PRS-350. It is now $84.99 from Sony.com. They still list the price as $152.99; you have to add it to the cart to get the discounted price.
The Sony PRS-350 is a 5-inch touchscreen ebook reader from last year that retails for $179. It's pretty much exactly the same as the larger PRS-650 but lacks memory card slots and doesn't support audio.
From a functionality standpoint, the PRS-350 has a lot of the same features as the new PRS-T1. It has on-screen notes, highlights, drawings, 12 dictionaries, search, history, and collections. The main thing the 350 lacks is the wireless features and new font choices (you can add new fonts manually but only for DRM-free ebooks).
A couple of positives with the PRS-350 is that it is very small and light, it has an aluminum casing, and has a slot for the stylus. A couple of negatives are the lack of wireless and memory expansion, lack of font options, and wonky landscape mode that cuts off text.
With the release of just one new Reader this year, there's a good chance the PRS-350 could be the end of the line for 5-inch Sony Readers, an experiment that lasted just two years, with the PRS-300 being the first 5-inch model.