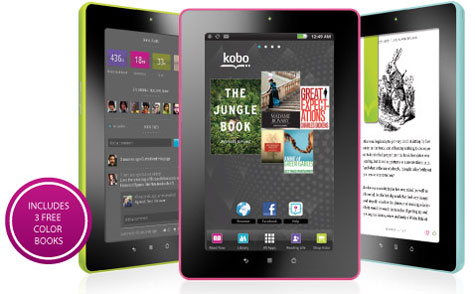 Kobo just announced the Kobo Vox, an Android tablet/ereader hybrid very similar to the Nook Color and Kindle Fire. Given the specs and features, it looks like Kobo's new toy will provide stiff competition against both of those, in fact.
The Kobo Vox has a 7″ color screen that Kobo boasts as being optimized for reading outdoors with an anti-glare screen and wide viewing angles. It is a AFFS+ multi-touch screen with a resolution of 1024 x 600 pixels.
The Kobo Vox runs Android 2.3 Gingerbread. It is an open version too, so you can install whatever Android apps you want, probably even the Amazon Appstore. It doesn't appear to come with any Google apps, however, so hackers will have to provide a fix for that. The fact that it is open is good news.
As far as memory, the Vox has 512 RAM and comes with 8GB onboard and has a microSD card slot for cards up to 32GB (the memory expansion is a big win over the Kindle Fire).
The big question is what kind of processor does the Kobo Vox have. The tech specs say 800MHz. That's it. They don't specify single core or dual core or chip type. The Nook Color runs a single core 800MHz processor that could stand to be a little faster. The Kindle Fire runs on a dual core processor so it should be blazing quick. Update: the listing at Indigo says it has a Freescale iMX51 ARM Cortex A-8 800MHz processor.
Battery life is rated at 7 hours with Wi-Fi turned off, that's about the same as other 7-inch tablets. It weighs 14.2 ounces (402.6 grams) and measures 192.4 mm X 128.4 mm x 13.4 mm (7.57″ x 5.06″ x 0.53″).
The Kobo Vox has three sensors below the screen for Home, Back, and Menu, as well as power and volume buttons.
Other features include built-in speakers, headphone jack, Wi-Fi 802.11 b/g/n, micro USB port, Kobo eReading App with Reading Life and Kobo Pulse, music player, photo gallery, video player, and access to over 15,000 free apps for Android.
The Kobo Vox is available in the United States and Canada from Kobo.com, Indigo Books & Music, Best Buy, Fry's Electronics, and Future Shop.
I ordered a Kobo Vox from Kobo.com to review. It is expected to ship on October 28th. Subscribe to keep updated on the review and comparisons.
Kobo's Introducing Kobo Vox Video