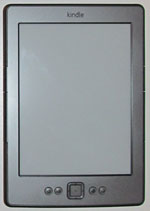 Yesterday while putting together the Kindle 4 shortcuts post, I was experimenting with different things and stumbled upon a way to get the Kindle 4 to display a blank screen instead of showing screensaver advertisements and special offers.
It's an odd thing for Amazon to overlook, but if you are so inclined you never have to look at a screensaver ad again, not unless you forget and let the Kindle 4 fall asleep by letting it sit idle for ten minutes.
The trick to do this is ridiculously simple. Instead of putting the Kindle to sleep, just power it off completely. Sounds stupid, right? Yeah, but it works. The crazy thing is that the Kindle doesn't take any longer to start up from being powered off as it does from being asleep, and even starts exactly where you left off; it doesn't have to boot up or start from the homescreen or anything.
So instead of tapping the power button to put the Kindle 4 to sleep, just hold the power button down for about 7 seconds and it will turn the screen blank instead of showing a screensaver.
It's funny how taking an extra six seconds to turn the device off is all it takes to avoid the screensaver ads completely. So what's your choice, saving six seconds or not having to see the ads?
Of course the homescreen ad is still unavoidable….