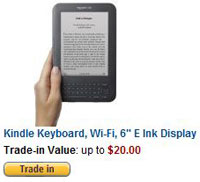 Have you heard? Amazon now accepts Kindle trade-ins in exchange for gift cards for Amazon.com. They've been doing this for awhile for other products, including tablets and other ereader brands, so it's about time they added Kindles to the trade-in program too.
What's truly odd is that some of the Special Offers Kindles are valued higher than regular Kindles without ads—how does that make any sense? Can't Amazon just put the ads on the ones without Special Offers?
Regardless, I wouldn't trade-in my Kindle because I don't like getting ripped off—the trade-in values are way too low. You'd be better off selling it on Craigslist, giving it to a friend or family member, or donating it to charity.
Seriously, $20 for a Kindle 3 with Wi-Fi and no ads? Or how about $15.25 for a Kindle 2 with free 3G wireless? To be fair, they aren't all as bad as those. Some of the Kindle 3 models are worth almost $50. Still, it's hardly worth it. And that's if the Kindle is in "like new" condition. If not, the prices are even lower.
Here's the link to the Kindle trade-in page if you want to see how much your Kindle is worth.