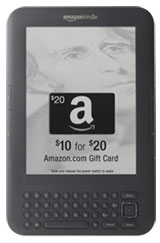 It's true. The Kindle Wi-Fi and Kindle 3G with Special Offers both top Amazon's best sellers list, with the 3G version currently outpacing the Wi-Fi model.
Amazon first introduced the Kindle Wi-Fi with Special Offers back on April 11th, 2011. Then started selling the 3G Kindle with Special Offers on May 24. These ad-supported Kindles are essentially the exact same as the regular Kindle, but have a small advertisement at the bottom of the homescreen and on the screensavers when the device is asleep. Some are ads and some are special offers like coupon deals for items and gift cards at Amazon.
In exchange for putting up with these advertisement and special offers, the ad-supported Kindles sell for less than the non-ad Kindles. The regular Wi-Fi only model sells for $139, the ad-supported model is $114. The regular 3G model sells for $189, the ad-supported 3G Kindle is $139.
The most surprising detail that most people don't realize about this is the fact that the Special Offers Kindles are only sold in the United States, whereas the non-ad Kindles are sold to over 170+ countries worldwide. Amazon sells a lot more Kindles in the US than outside of it, but to sell more in the US than all the other countries combined…
I guess it's safe to assume at this point that the ad-supported Kindle experiment has been a big success for Amazon. Amazon was the first company to try something like this, and they won't be the last. It turns out that people like to save money. Who knew?
The obvious question now is will Amazon offer a Kindle tablet with Special Offers? Screensavers aren't going to work the same on a tablet, and sticking an advertisement on an Android homescreen is a lot different than on the Kindle's homescreen. When reading on a Kindle, you rarely have to go to the homescreen. With a tablet, you're going to the homescreen all the time. A constant banner ad is going to be a lot more annoying. An ad-supported Kindle tablet would have to be done in a completely different way, but if done right could be another way for Amazon to shave even more off the selling price. It might not be the next iPad, but get the price low enough and it could certainly compete.