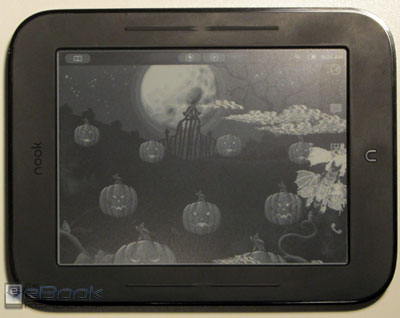 A few days ago I tried installing a video game on my rooted Nook Touch. The game didn't play right but the speed of the animation was surprisingly fast.
So I decided to try some different apps to see just how fast the animation can be on the Nook Touch. I figured live wallpapers were a good place to start so I installed several to test. Again, I was surprised to see how fast the Nook handles animation, given the E Ink screen. Take a look…
As you can see in the video, the live wallpapers don't work very well on the homescreen, often stopping and restarting. When the E Ink sets, the items continue to move but the screen shows a still picture.
Pressing the "n" button below the Nook's screen alters the state of the E Ink so that the animations can move freely again. You often have to press the "n" button to get the buttons and menu to re-appear, because they get stuck in the screen pause loop as well.
The Halloween Pumpkins live wallpaper shows the speed the best, with the fog and bats moving across the screen. The Starlight wallpaper works the smoothest of the live wallpapers I tested: the clouds always continue to move on the homescreen without stopping or the screen pausing. AniPet Aquarium is pretty funny with the trippy spear-fish swimming in electronic ink.
The Nook Touch still manages to surprise me with how many different things it can do once rooted. Got any suggestions for the next experiment?