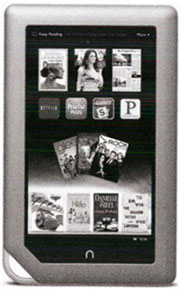 That grainy black and white picture to the left is the first glimpse at the new Nook Tablet that Barnes and Noble is going to unveil on November 7th. It looks just like the Nook Color, but it comes with substantial upgrades.
Some of the shiny new features include a dual-core processor, 16GB of onboard storage (that's twice as much as the Nook Color), 1GB of RAM, a 1.7 ounce lighter build, and if you take a closer look at the picture you'll see apps for NetFlix and Hulu Plus.
A number of things remain the same as the Nook Color, which is getting a price-drop and firmware update: the 7-inch VividView IPS screen with 1024 x 600 resolution, the microSD card slot, eight hour battery life, and access to B&N's ebookstore and Android appstore.
The Nook Color has been so popular that it's not surprising that Barnes and Noble essentially duplicated it with the Nook Tablet, just adding some hardware upgrades and continuing to build on content selection.
Nook Tablet Specs
7″ LG VividView IPS display
1024 x 600 pixel resolution (169 ppi)
16GB storage memory
1GB RAM
MicroSD cards up to 32GB
Dual-core processor 1.2 GHz OMAP4
Movies and TV from Netflix and Hulu Plus
2 million ebooks from B&N, plus magazines, newspapers, kids books
Wi-Fi 802.11 b/g/n
Battery: up to 8 hours
Size: 8.1″ x 5″ x .48″
Weight: 14.1 ounces (400 grams)
Format support: Adobe DRM, EPUB, PDF, XLS, DOC, PPT, TXT, DOCM, XLSM, PPTM, PPSX, DOCX, XLX, PPTX, Adobe Flash, JPG, GIF, PNG, BMP, MP3, MP4, and AAC
B&N will be announcing the Nook Tablet officially the morning of November 7th, at which point it will go up for pre-order from B&N.com for $249. It releases on November 16th, one day after the Kindle Fire, of which just got some major competition. Stay tuned for a review and hacking tutorials (it'll probably be rooted by the 18th).