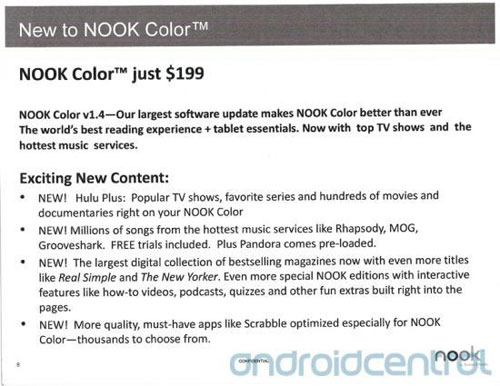 Amid a whirlwind of leaked documents, it looks like Barnes and Noble intends to keep selling the Nook Color even though they are releasing a new Nook Tablet on November 16th.
The Nook Color will be getting a $50 price drop down to $199, making it the same price as the Kobo Vox and Kindle Fire. It will also be getting a firmware update, version 1.4, that adds some tantalizing new features.
One of the best new features is the addition of Hulu Plus for access to hundreds of television programs and movies. There's no mention of NetFlix, however. That looks to be exclusive to the Nook Tablet. (The Nook Color runs NetFlix with ROMs and rooted.)
Barnes and Noble is going to add more options for music for the Nook Color through Rhapsody, MOG, and Grooveshark, complete with free trials. And Pandora is included like always.
More Nook Color apps are on the way too. Currently there are 1026 apps in the Nook Color appstore; the leaked document says "thousands", so hopefully that's a sign of good things to come.
More details to come next week at B&N's Nook announcement. Subscribe to keep updated!