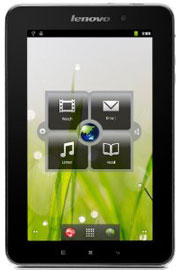 The Lenovo IdeaPad is the sleeper pick for 7-inch Android tablets this holiday season. It has the same $199 price as the Kindle Fire, Nook Color, and Kobo Vox, and comes with features all of those lack.
Like its similarly-priced competitors, the Lenovo IdeaPad has a 7″ 1024 x 600 pixel resolution display, it runs Android 2.3, has 512MB of RAM, Wi-Fi, and supports Adobe Flash.
What sets the IdeaPad apart is its 16GB of memory, Bluetooth support, front and rear facing cameras, microSD card slot, and offline GPS. It's also the lightest of the bunch at just a hair over 14 ounces. But the battery life is a little less than other tablets at five hours.
The IdeaPad has a single core 1GHz ARM Cortex-A8 processor, which is faster than the Nook Color and Kobo Vox's 800MHz processor, but slower than the Kindle Fire and Nook Tablet's dual-core processors.
I posted the specs and a quick comparison of the Lenovo IdeaPad versus the Kindle Fire and Nook Color last month. At that time, Lenovo briefly had the 2GB IdeaPad up for pre-order for $199 on their website and the 16GB version for $249. Right after that they jacked the price of the 2GB version up to $229. Now it's missing entirely and the 16GB version is still $249.
At that price it is hard to justify compared to the others, but over on Amazon the 16GB version of the IdeaPad is up for pre-order for $199, making it a compelling choice given its features. Too bad it doesn't have a dual-core processor and an HDMI port, though.