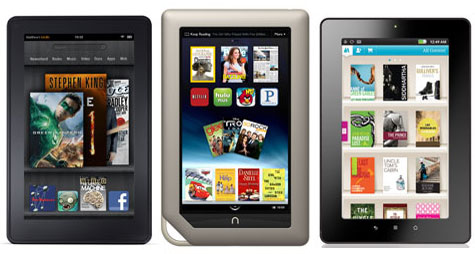 The three largest ebook companies all have shiny new color ereaders that double as tablets ready just in time for the holiday season, with all of them trying to duplicate the success of the Nook Color from last year. Comparing the specs of the Nook Tablet versus the Kindle Fire and Kobo Vox reveals all three are very similar devices.
They all run Android and have the same size screen and share the same general characteristics for reading ebooks, watching videos, listening to music, browsing the web, email, and plenty more.
It's a tough comparison for the Kobo Vox because the Kindle Fire and Nook Tablet both have faster processors, but neither are available outside the US so the Kobo wins in that department. The Vox also has the advantage in that it is running an open Android 2.3 whereas the other two are restricted to their respective appstores.
The Kindle Fire's main advantage is the tie-in with all of Amazon's digital content for Android apps, music, videos, and ebooks, with free cloud storage for all Amazon content. Amazon Prime members also get free ebooks and video streaming. The main disadvantage of the Kindle Fire is the meager memory and lack of a memory card slot. Amazon is going all in with cloud storage.
The Nook Tablet has the advantage with twice as much RAM and storage space. It can house up to 48GB with a microSD card. That's just insane compared to the Kindle Fire. The Nook has an active hacking community as well, with custom ROMs that can turn it into a full-fledged tablet. The Nook's main disadvantage it that the Nook appstore is more limited and some apps cost more than at other stores.
Keep in mind this Nook Tablet vs Kindle Fire vs Kobo Vox comparison review is a preliminary comparison. I'll post much more detailed hands-on comparisons and video reviews once I have the devices in hand. Subscribe to keep updated.
There's also this earlier post comparing the Kindle Fire vs Nook Color.
Note: You can sub out the Nook Color for the Nook Tablet in this comparison as well (there wasn't enough room in the table). These are the only differences with the Nook Color: It has an 800MHz processor; it runs Android 2.2; it has 8GB internal memory and 512MB RAM; 7-8 hour battery life; and weighs 1.7 ounces more than the Nook Tablet. B&N insinuate the screen is better on the Nook Tablet in some way but the specs are identical so it'll have to wait for in-person testing.
Kindle Fire vs Nook Tablet vs Kobo Vox
| | Kindle Fire | Nook Tablet | Kobo Vox |
| --- | --- | --- | --- |
| Screen | 7″ IPS Vibrant Color, 16 million colors | 7″ IPS LG VividView, 16 million colors | 7″ FFS+ optimized for indoor and outdoor reading |
| Resolution | 1024 x 600 | 1024 x 600 | 1024 x 600 |
| Processor | 1GHz dual-core TI OMAP4 processor | 1GHz dual-core TI OMAP4 processor | 800MHz ARM Cortex A8 |
| Operating System | Android 2.3 | Android 2.3 | Open Android 2.3 |
| Storage | 8GB, cloud storage, no memory card slot | 16GB, microSD memory cards up to 32GB | 8GB, microSD memory card slot for cards up to 32GB |
| Memory | 512 MB RAM | 1GB RAM | 512MB RAM |
| Apps | Amazon's Appstore 19k apps | Nook Apps 1k apps | GetJar Apps 15k apps |
| Camera | No | No | No |
| Input/Output | USB 2.0 (micro-B connector), 3.5mm headphone jack, stereo speakers | Mini USB, 3.5mm headphone jack, 1 speaker, mic | Mini USB, 3.5mm headphone jack, 1 speaker |
| Audio Support | Yes | Yes | Yes |
| Wireless | Wi-Fi | Wi-Fi | Wi-Fi |
| Battery | 7-8 hours | 9-11.5 hours | 7 hours |
| Weight | 14.6 oz | 14.1 oz | 14.2 oz |
| Size | 7.5″ x 4.7″ x 0.45″ | 8.1" x 5" x 0.48" | 7.6" x 5" x 0.53" |
| Price | $199 at Amazon | $249 at B&N | $199 at Kobo |