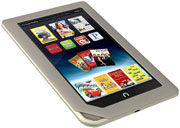 Earlier in the week The Bookseller posted an article that mentions Barnes and Noble's plans to launch the Nook internationally within the next four months.
The United Kingdom is mentioned specifically, which leads to speculation about B&N partnering with Waterstone's, a major UK book chain looking to expand its ereader selection.
Here's the quote from the article:
William Lynch, chief executive of Barnes and Noble, told The Bookseller that publishers and consumers in the UK should expect an announcement within the next four months about the Nook going international. "We want to do it right," he commented. The comment has prompted speculation that the US chain could do a deal with Waterstone's, which has previously announced that it intends to develop an e-reader.
Canada is another market that Barnes and Noble would be wise to consider, but finding a partner could be more difficult with Kobo already leading the Canadian ebook market.
Amazon, Sony, and Kobo all offer their ereaders and ebooks internationally; Barnes and Noble are majorly lagging behind in that department. They need to expand in order to continue to grow, and more competition is always better for the consumer. So this is good news indeed.