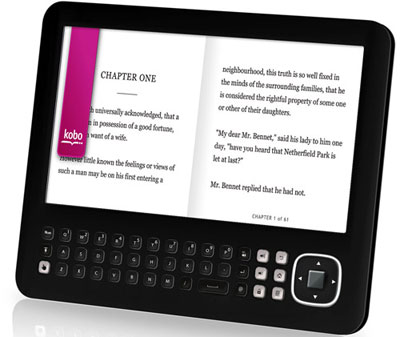 I came across this new ereader today, the Ematic eGlide Reader Pro. It's listed on various retail websites. Walmart has it for the cheapest at $109.
As you can see from the picture, the Ematic eGlide Reader Pro is one strange-looking device. I've never seen an ereader with a keyboard below the screen on its side like that. It's also got a little kickstand on the back to prop it up. Ematic is always good for a laugh. Remember the Ematic Twig?
The Ematic eGlide Reader Pro comes with the Kobo eReading app pre-installed. It runs Android 2.1 so it is a tablet in addition to an ereader, although a tablet without a touchscreen is bound to be difficult to use. The description at Walmart even claims it has access to the Android Market—a typo for sure. There's no way…
The Ematic has a 7-inch screen with a resolution of 800 x 480. It has 4GB of on-board storage, an SD card slot for cards up to 16GB, Wi-Fi for connecting to the internet, and it supports 720p HD video playback. That's it for details, unfortunately. A couple of other websites list it as having an HDMI port and voice recorder, but Walmart doesn't include those details in their description.
I can't see this device being very popular but if you happen to get your hands on let us know what you think.