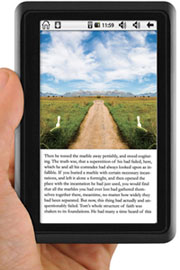 Here's something different. The 4.3″ Ematic Twig. I can't decide which name is funnier, the Ematic Twig or the Naxa Noodle that turned up back in July.
This is the second new Ematic device in as many months. The other one is a 7″ touchscreen ereader that comes with Kobo eBooks and looks like a Sony Reader clone.
The most unusual thing about the Ematic Twig is its 4.3-inch 800 x 480 resolution TFT touchscreen. Most tablets have 7-inch and larger screens. The smaller screen definitely makes it a lot more portable and pocket-friendly. The device measures a mere 4.5″ x 3.0″ x 0.5″.
Underneath its diminutive frame, the Ematic Twig runs Android 2.2 and is powered by a undisclosed dual-core processor. It has Wi-Fi (802.11b/g) and a g-sensor. The $89 model comes with 4GB of internal memory. There's a second model that comes with 8GB of memory. That model, the Ematic Twig EL480B, costs $99. Both support microSD cards up to 16GB.
If size really doesn't matter, the Ematic Twig should be a hit at those prices. There's even a pink model for the ladies.