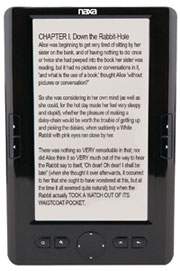 Here's a new ereader worth some good laughs. Take the name for starters. Naxa Noodle. Say it out loud a couple of times. Come on. Don't be shy. Naxa Noodle. It rolls right off the tongue. And if there are people near by that overhear you, it's okay, they'll just think you're hungry and thinking about what to eat for lunch.
As if the name isn't enough to sell you on this new 7″ color ebook reader and media player out of China, the Naxa Noodle supports "various" ebook, video, music, and picture formats.
What formats exactly? Various formats. Seriously, that's as specific as it gets via the listings at Amazon, QVC, and even the Naxa website.
And then there's the screen resolution. The specs say it is 480 x 234. That's on a 7-inch screen. Usually devices with that screen size are 480 x 800 or higher. So that's a first.
Other features include 4GB of built-in flash memory, a memory card slot, headphone jack, speakers, USB port, ID3 lyric display, and calendar. Additionally, the Naxa Noodle comes with a built-in rechargeable battery, AC adapter, USB cable, earphones, and hand strap.
Currently the price for the Naxa Noodle is $79 at Amazon. Not a bad price, but they aren't going to be selling very many Noodles when there's no mention of format support anywhere. Given the lack of details, it is very unlikely that it supports DRM, which means it would only work for public domain ebooks and DRM-free ebooks, none of the major ebookstores.