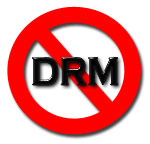 One big misconception about the Kindle is that you can only buy ebooks from Amazon. While that is true for ebooks laced with DRM, you can still buy ebooks to read on a Kindle from websites that sell DRM-free ebooks.
The same goes for the Sony Readers, Nook, and other ereaders. DRM-free ebooks will work on any device that supports the format the ebook comes in, and if your particular device doesn't support that format you can easily convert the ebook with Calibre to a different file format. There aren't any device restrictions, activations, or other nonsense with DRM-free ebooks.
The websites listed below sell DRM-free ebooks. Some have free ebooks too, but if that's what you're looking for check the free ebooks page for a list of websites that specialize in that. Free ebooks are typically DRM-free as well, except weekly promotional free ebooks.
DRM-Free eBook Stores
Smashwords is an ebook publishing and distribution platform with a massive library of DRM-free ebooks available in multiple formats for any ereader. Smashwords publishes everything from novels to non-fiction to poetry and anything in between. Smashwords has a wide selection of free ebooks as well.
Baen's Webscriptions don't have DRM and come in multiple formats for support on any reading device. Baen's books are science fiction/speculative fiction. They also have a good selection of free ebooks.
O'Reilly eBooks are DRM-free and come in a bundle of PDF, EPUB, MOBI, and DAISY formats. They also have Android .apk files when possible. O'Reilly specializes in tech ebooks.
Fictionwise sells both DRM-protected and DRM-free ebooks. Their DRM-free ebooks are labeled "MultiFormat". These come in 13 different formats that will work on virtually any e-reading device. Update: Sorry, this ebookstore is no longer in business.
Double Dragon Publishing offers their titles in paperback and in several DRM-free formats: Rocket Ebook, MS-Reader, Adobe PDF, Palm, Hiebook, iSilo, MobiPocket. Other formats are sometimes available as well. DDP's books span several genres and categories.
BeWrite Books titles are available in paperback and DRM-free PDF, EPUB, and MOBI ebook formats. They have books in several genres. Update: Sorry, this ebookstore is no longer in business.
Noble Romance Publishing sells DRM-free Romance and Erotica ebooks that come in HTML, PDF, and MOBI formats. Update: Nothing on website anymore, appears to be out of business.
This list of DRM-free ebook stores is a good start but is far from complete. Please feel free to add your own suggestions in the comments section below.