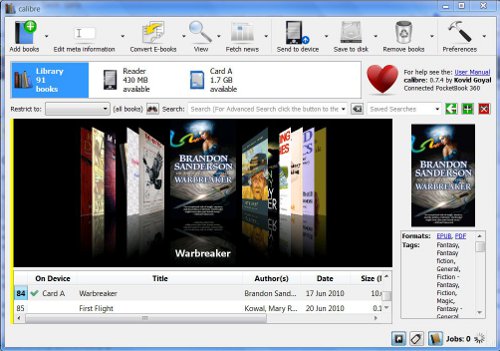 Calibre Overview
If you haven't yet started using Calibre (pronounced Caliber) for managing your ebook collection, now is a good time to learn how to get started. Calibre is undisputedly the best ebook managing tool on the planet. And the best part is, it's free.
Calibre can do everything from displaying ebooks in its ebook viewer to converting formats into something more compatible for a specific ereader. With it you can organize your entire ebook library any way that you choose, and sync all your content with your favorite reading devices. You can easily edit all your ebooks' metadata and descriptions. And Calibre can even search the internet and download metadata and book covers at the click of a button.
Additionally, you can set up Calibre to fetch RSS news feeds from around the web and automatically convert them into an ebook to be sent to your device, no subscription fee required. The news feeds are setup for many of the popular news sources like Newsweek, The Wall Street Journal, BBC news, and 100's of others—or you can create a new recipe to collect an RSS news feed that's currently not supported.
4 Quick Steps to Getting Started with Calibre
1. Install Calibre: To get started, download Calibre from http://calibre-ebook.com/download. It's available for Windows, OS X (Mac), and Linux.
Once you install Calibre, the welcome wizard will guide you through the installation process. First you'll be asked where you want Calibre to save your files. Calibre will copy all your ebooks into a hierarchical file system.
Next, you'll be asked to choose your specific type of ebook reader so that Calibre can determine the optimum format to output when converting files. You can change this later so don't worry if you don't have an ereader yet.
2. Adding eBooks and News Feeds: If you already have some ebooks on your hard drive, loading them into Calibre is as easy as clicking on the "Add Books" button in the upper left corner of the program's home menu. Select the folder with your ebooks in it and then Calibre will import the entire folder at once, or you can just choose individual titles.
If you don't have any ebooks, what are you waiting for? You can find millions of freebies by checking out the websites listed on our free ebooks page, or you can find the latest free titles in the free ebooks category of this blog. If you are looking to buy ebooks, here's a list of the most prominent ebook stores.
To add RSS news feeds to your Calibre library, simply click on the "Fetch News" button. This brings up a list of all the currently supported news sources. Select the feed you want and then you can choose to download it once or setup a schedule to automatically download it each morning or whenever you specify.
Calibre collects the articles and then converts them into ebooks that includes the full versions of the articles, along with the associated images.
3. Editing Metadata: This step is optional but makes sorting and organizing your ebooks a lot easier in the long run. You can enter metadata—author names, book titles, tags, book description, etc—manually yourself or you can have Calibre search for them online, along with the book covers, to automatically fill in any missing information.
4. Transferring eBooks to a Reader: You can read your DRM-free ebooks using the Calibre ebook viewer on your computer, or you can send them to your favorite reading device as easily as clicking on the "Send to Device" button. Calibre will automatically detect your device when you plug it in to the USB port of your computer.
If the ebook you are sending to the device is not a supported format, Calibre will convert it to the most suitable format for your reader automatically.
Also, with the Calibre content server you can access your ebook collection using a web browser from any computer anywhere in the world, and you can set it up to email your ebooks and downloaded news automatically.
Calibre Video Tutorial
In the video below the creator of Calibre, Dr. Kovid Goyal, gives a tutorial on how to setup Calibre, add ebooks, edit ebook meta data, how to convert and send ebooks to a device, and how to fetch news feeds, among other helpful tips and tricks.
Check this new post for an article and video with some advanced tips and tricks for using Calibre ».