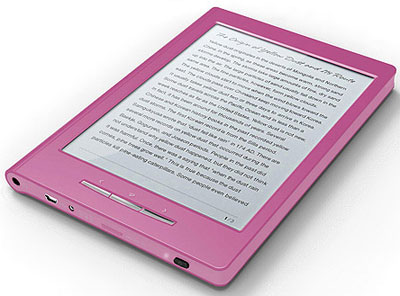 I came across a new touchscreen-equipped Ematic ereader on Walmart, model EB103, that shares a similar design to Sony's eBook Readers, although it has a color LCD screen instead of E Ink.
Most websites that list this new Ematic eReader show a picture of the old non-touchscreen model; WalMart seems to be the only place with the right picture, albeit an obviously Photoshopped rendering.
Here's another "picture" of the new Ematic touchscreen ereader to show that it is color.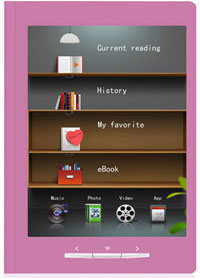 Contacting Ematic support for more information yielded a copy of the user manual, which reveals that it is indeed a very basic ebook reader and media player that lacks any advanced features, but then again it only costs $97.
The Ematic EB103 ties-in with the Kobo ebook store
. The bad news is that it doesn't have WiFi so you have to use the Kobo desktop software to download and transfer ebooks. Plus from the looks of the manual there's a minimum of ereading features—no notes, highlights, dictionary, layout adjustment, etc. The good news is that it supports Adobe DRM, including the following ebook formats: EPUB, PDF, TXT, FB2, HTML, and MOBI.
Aside from ereading, the Ematic EB103 doubles as a videos player, photo viewer, and music player. An interesting feature, the Ematic has a built-in radio and recorder.
As far as hardware goes, the Ematic EB103 has a 7″ TFT touchscreen with a 4:3 800 x 600 pixel ratio. There's no mention of the touchscreen tech so that probably means it is resistive. The device comes with 4GB of internal memory and has a microSD card slot for cards up to 16GB. It has a built-in 2900mAh rechargeable battery that is listed at getting 8 hours for ereading, 4 hours for video, and 10 hours for music.
One detail the user manual doesn't reveal is the operating system. I can't tell if this thing runs some closed-in form of Android or not. It has an apps icon for accessing settings, a calendar, file explorer, and touchscreen calibrator. Couple that with the Kobo app and it certainly smells like Android under the hood.