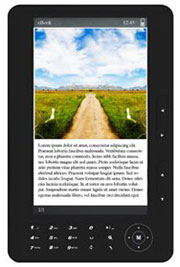 Here's an interesting device I stumbled upon at Walmart.com while checking out the new listing for the Kobo WiFi, the Ematic EB101B 7″ eBook Reader.
This device looks like it has the same exact hardware as a variety of other devices going by different names. These companies buy them in bulk from China, slap their logo on them, and then the products end up at places like Walmart for nice and cheap.
The downside is that you probably aren't going to get much for product updates and support, but if the thing works it could make a nice starter device, backup, or gift. There aren't any written reviews to be found on this particular unit unfortunately, just three 5-star ratings at Walmart with no comments on performance or reliability.
For features the Ematic EB101B 7″ eBook Reader has some good things going for it with its 7″ 800 x 480 pixel color display, 4GB of internal memory and microSD card slot, video and audio players, and support for EPUB, PDF, TXT, and DOC ebook formats.
Here are the complete specs for the Ematic eReader from Walmart's product details page:
7″ 800 x 480 pixel Color Display allows you to watch videos, movies, view song information and pictures, and browse e-books
4GB of memory stores up to 2,300 songs, 20 hours of video or thousands of e-books
Supports the most popular e-book formats including TXT, EPUB, FB2, HTML, PDB, PDF and DOC
Expandable microSD card slot holds up to 40,000 e-books (microSD card sold separately)
Built-in MP3 player allows you to complement your reading with your favorite background music; supports MP3, WMA, WAV, FLAC, and more
Sync to your Mac or PC, then drag and drop e-books from your computer to your reader in seconds
Photo/Video Player lets you browse photos and watch your favorite videos in stunning color; supports JPG, BMP, AVI, MP4, FLV, and more
Built-in rechargeable battery with extended battery life
Includes wall charger, headphones, leather case, USB cable and user manual
There's no mention of DRM support, which isn't surprising. None of these particular models, by whatever brand-name they carry, have support for encrypted ebooks, it seems. That means you have to rely on ebooks in the public domain and from websites that sell DRM free ebooks like Smashwords and O'Reilly.