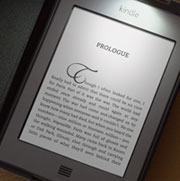 Good news. If you were one of the first to pre-order a Kindle Touch, it should be arriving at your door earlier than expected.
I received an email from Amazon earlier today regarding my Kindle Touch 3G order. It was initially supposed to be released on November 21st, but they've moved that up to this week, with an expected arrival date of November 15th to November 16th.
The product page for the Kindle Touch has been updated to reflect the change too. It no longer mentions November 21st as the day of release, instead it now gives an estimate of 8-9 days for shipping, which amounts to the same difference. It looks like Amazon just wants to get the initial wave of pre-orders out the door early, something they are known for doing.
It will be interesting to see what Amazon has done with the Kindle Touch to make it stand out from the other touchscreen ereaders like the Kobo Touch, the $99 Nook Touch, and the more advanced Sony PRS-T1, especially now that the Kindle Touch is the most expensive touchscreen ereader of the bunch with the exception of the $99 ad-supported version.
Details on the Kindle Touch have been very slim up to this point. Usually Amazon sends out review units to all the major tech sites and has them post reviews a week before the Kindle releases so that we have an idea what to expect. Actually it wouldn't be surprising to see some reviews crop up starting tomorrow, at least for the Kindle Fire. It releases this week as well.
My Kindle Fire order went from "Not Yet Shipped" to "Shipping Soon" over the weekend, so it will be arriving at about the same time as the Kindle Touch. That's going to make reviewing them a lot more difficult. Which one do I do first? Plus I just got the Kobo Vox in and the Nook Tablet is going to be released on November 18th. It's going to be a busy next few weeks…