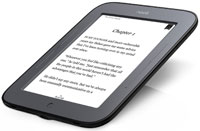 Barnes and Noble officially slashed the price of the Nook Touch down to $99
today at the Nook Tablet announcement. They also have a firmware update for the Nook Touch to add some improvements.
First off, B&N deserves a ton of credit for dropping the price of the Nook Touch from $139 to $99 in light of Amazon's new Kindle Touch and Kindle 4. A 28 percent price-cut is huge. And considering the Nook Touch doesn't have ads, it is the best deal of the bunch.
I personally think it is a better option than the Kindle 4 given the touchscreen, support for EPUB, and hackable OS, but I'll have to wait until the Kindle Touch arrives to see which one gets the top nod—the extra $40 for the non-ad Kindle is going to be an obstacle to overcome, however, even with the added audio support and web browser.
As for the Nook Touch firmware update, Barnes and Noble have the new software page up, but as of this writing the download links haven't been added. The update will automatically be pushed to Nook Touches over Wi-Fi starting this week. Or, once the links get added, you can sideload the update if you don't want to wait.
Here's what to expect from the Nook Touch firmware update version 1.1.0 via B&N's Nook Touch update page:
Barnes & Noble is providing a software update for NOOK Simple Touch that provides major enhancements, making NOOK Simple Touch the fastest, easiest to use Reader with the world's best reading screen & longest battery life. Now enjoy an enhanced, breakthrough E Ink® display for even better just-like-paper reading, even in bright sun-that's now 25% faster than any other eReader. Plus, our exclusive Best-Text™ Technology now makes fonts even sharper and ultra-crisp. In addition, users can enjoy longer battery life, reading for over 2 months on a single charge*.
If you have a rooted Nook Touch, you'll more than likely have to unroot it first before installing the update, then re-root. I posted these Nook Touch restore directions earlier to unroot it.
Once I get the firmware update installed, I'll put together a review for it, and then I'll try re-rooting the Nook Touch and will report back with my results.
Update: Don't try to root using the Touchnooter method with firmware 1.1.0. It doesn't work.