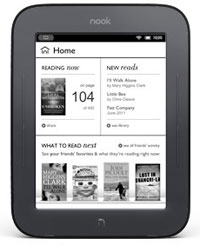 Below you will find directions on how to unroot and restore the Nook Touch back to stock with the original 1.0.0 firmware.
You can use this method to fix your Nook Touch if something goes wrong during the rooting process, or if you just want your Nook back to normal, or if you want to install new firmware updates.
B&N is expected to launch new firmware for the Nook Touch soon, hopefully today, that adds new features, so you have to unroot the Nook to install them and then re-root afterwards. I was able to install the firmware update from a while back, version 1.0.1, without any problems after restoring my Nook, confirming that this method does indeed work.
First off, I rooted my Nook Touch using the Touchnooter method outlined on the Nook Touch rooting guide. I don't think it matters what method you used, you just have to trigger a Factory Restore. I didn't make a backup of my Nook before rooting it. If you did, just use that instead.
To restore the Nook Touch, I followed these directions at XDA since I never made a backup. But not everything worked like it says over there. I followed the directions like they are written to restore my Nook, but the first two times I tried it nothing changed. So I decided to try resetting the Nook before restoring it and that worked like a charm. So this is what I did:
0. If you want to save your installed apps and the state of your rooted Nook Touch, use a backup tool before proceeding. Something like Titanium Backup.
1. Hit the Nook's "n" button, tap settings, then device info, then select to erase and deregister device. This will reset it and it will eventually re-start and go to the initial startup screen. Don't bother setting it up at this point, just hold the power button to turn it off instead (power it off, not standby).
2. Download the nookRestore.img and write it to a microSD card. If you rooted using the Touchnooter method you already know how to do this. For Windows, use WinImage to write the image to the memory card. For Mac and Linux use "dd".
With WinImage, open as Administrator, then go to Disk, then "Restore Virtual Hard Disk on Physical Drive". Hit okay and then choose the nookRestore image (I had to select show all files to get it to appear since it uses .vhd by default).
3. Now put the SD card into the powered-off Nook and turn it on. Just follow the on-screen directions and your Nook Touch should be good to go, back to the original, unrooted 1.0.0 firmware.