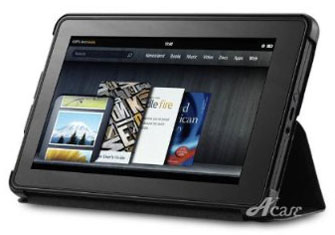 The most important accessory for an ereader or tablet is a cover or case to keep it protected. I happened to pick up an Acase cover for the Kindle Fire on Cyber Monday while it was on sale for $11.95.
I am pleasantly surprised by the Acase, especially considering how cheap it was. Most of the other Kindle Fire covers and cases cost between $30 and $50. I've never been the kind of person willing to drop $50 for a cover so the Acase was an obvious choice.
My favorite thing about the Acase is that the Kindle Fire fits in it perfectly and it doesn't have straps over the corners to hold the device in like some covers do. The back of the cover is hard plastic and the sides and corners are what hold the Kindle Fire securely in place. The case also has openings for the speakers and ports so nothing is obstructed.
The front flap is synthetic leather and has a divider in the center so it folds back to make a stand to prop the Kindle Fire up (there are more pictures over at Amazon). The stand can sit at two angles. There is a slot on the back of the cover down the center and then there is a strap that it can sit up against as well. It sits more stable up against the strap; it slips out of the center slot easier but it still works well enough.
The elastic strap on the back is for wrapping around the front to keep the leather cover closed. You can also slip your hand through the strap while using the Kindle Fire to help secure it in your hand.
My one complaint with the Acase cover is the front flap doesn't sit flat against the back when you fold it back. It binds on the edge so it remains slightly arched. I've been forcing mine to go flat by pressing it and working the edge. I think once the material gets broke in it will sit flat naturally. It's pretty close now, better than when I first stuck it on.
Overall, I really like the Acase cover and am glad I got it. It is one of the nicer cases I've used, in fact. It provides ample protection front and back, especially with the hard plastic microshell. And the fact that it doubles as a stand is a nice bonus. I give the Acase 4 out of 5 stars.
Update: I'm downgrading the 4 star rating to 3 stars. One month in and the bottom edge of the front flap is starting to come apart from the elastic strap rubbing it, and I don't even use the elastic strap very often. On the positive side the front cover has broken in enough that it folds back almost flat now.