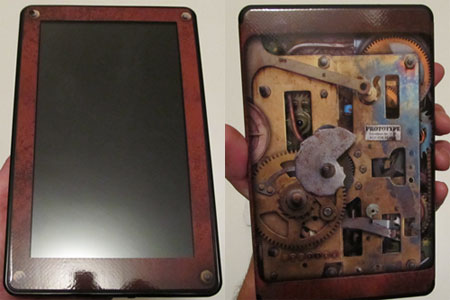 The Kindle Fire has been out long enough now for third-party accessories to start showing up, including skins. Two top places to get skins for the Kindle Fire are GelaSkins
and DecalGirl
. They both have hundreds of designs to choose from and you can even upload and create your own design with GelaSkins.
Skins are a good way to add some style to your Kindle Fire and for adding a layer of protection as well. GelaSkins sent me a coupon code (one of the perks of owning a website), so I went ahead and cashed it in on a Kindle Fire skin and a couple of other skins that I'll post about later.
For the Kindle Fire skin, I chose to go with this Steampunk design
. I'm not into steampunk per se, but I like the design and wanted something that wasn't too distracting on the front. And I'm glad I went with it because it looks great now that I have it on.
The skin covers the back of the Kindle Fire and wraps around each side partway, but not on the top or bottom. The front piece has a hole in the upper left corner for the Kindle Fire's ambient light sensor. Skins generally come with a matching wallpaper, but the Kindle Fire doesn't have custom wallpapers so that's out the window.
This is the first skin that I have installed and it was fairly easy to put on. The back piece was a piece of cake; the front took a little more time to align properly. I've used screen protectors in the past and they can be a real pain to get just right with the wet install methods commonly used. With skins it is a dry install; it is like putting on a big sticker. It can be a little tricky to get it lined up just right, but you can adjust as you go so it's not a one shot only deal. If you are nervous about screwing up, just find a teenager to put it on. They are uncannily good with these types of things.
The most difficult thing with skins is choosing a design. It took me forever to decide. After going through all the designs in the Kindle Fire section at Gelaskins, I discovered that was only the "most popular" category—there are a whole bunch more designs in the other categories listed on the right column.
I'm in the GelaSkins and DecalGirl advertising programs (that means I get paid a commission when you buy something from them to help generate revenue for this website), which gives me easy access to embed some samples of their more popular designs below. The DecalGirl skins also sell from Amazon.
Kindle Fire Skins from GelaSkins
More Kindle Fire Skins at GelaSkins »
Kindle Fire Skins from DecalGirl
More Kindle Fire Skins at DecalGirl »