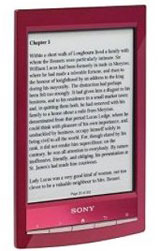 Sony has once again slashed the price of the Sony Reader PRS-T1 from its original price when it was first introduced of $149 down to $129. And Amazon has an even better deal right now through Electronics Expo, taking the price down to a $114 both for the red and black Readers.
It is surprising that Sony is able to offer such a low price on the PRS-T1, especially since Sony is generally known for having higher prices. Last year's 6-inch Sony Reader retailed for $100 more, and with a lot less features. Yet they've somehow managed to price the PRS-T1 lower than Amazon's equivalent touchscreen ereader, which goes for $139 without ads ($99 with ads).
The Nook Touch goes for $99, but the Sony Reader offers a lot more features than the Nook does with the addition of audio support, a web browser, library ebook downloads, multi-touch support, and on-screen notes.
The Sony Reader also has much better PDF support than the Nook and Kindle Touch. That isn't saying much but it is one of the better 6-inch PDF ereaders. Check my review of the Sony PRS-T1 for more info.
Some folks have experienced crashing and freezing issues. I haven't had any crashes, just some slowdown and general oddness with some PDFs. Sony is aware of the issue and is supposed to be issuing a firmware update for the PRS-T1 soon. Hopefully that clears up the bugs.
Otherwise the PRS-T1 is a solid little ereader and is one of the Best eBook Readers for 2011. And as long as the price keeps falling, it is just going to keep getting better.