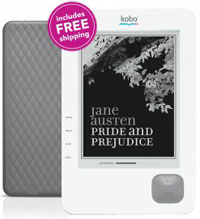 Kobo is running a sale on the Kobo Wi-Fi while supplies last. It is refurbished and is selling for $39.99 with free shipping from Kobobooks.com.
The regular price is $89 so that is a considerable discount. In fact I think it's the lowest priced E Ink ereader I've ever seen. $40? That's crazy. Even if it is refurbished.
I reviewed the Kobo WiFi last year and can confidently say that it is worth every bit of $40. It is a basic ebook reader with a minimum of features but it does what it is supposed to do and makes for a good starter ereader.
It has a 6-inch E Ink Vizplex screen, Wi-Fi for downloading ebooks from Kobo, 1GB internal memory, and an SD card slot for cards up to 32GB. The battery life is rated at about 2 weeks or 10,000 page-turns. The Kobo Wi-Fi supports Adobe DRM so you can load ebooks from libraries and other websites as well.
Kobo eBooks Discount Codes
Here are a couple of discount codes for Kobobooks.com I found via MobileRead. As usual they will only work on non-agency ebooks since the BIG publishers are still getting away with price fixing.
save3590us – 35% off. Expires December 7th.
save3590ca – 35% off. Expires December 7th.
save3089us – 30% off. Expires December 7th.
save2529ca – 25% off. Expires December 7th.
Old Codes Still Active
GIFTREAD – 25% off. Expiry unknown.
Kobodollaroff – $1 off. Expires January 31st.
FirstRead – 35% off first ebook purchase. Expiry unknown.
save20offer – 20% off. Expires December 31st.