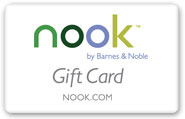 If you have been holding off on getting a Nook Touch, Nook Tablet, or a Nook Color, today is the day to get one. Barnes and Noble are giving away $25 gift cards with all Nook purchases
.
The rules require you to use a MasterCard to redeem the offer and the orders have to be made online. Unfortunately certified pre-owned Nooks aren't eligible for this offer, just new Nooks.
The $25 gift card is an egift card for Barnes and Noble that gets emailed to you after your purchase. They put a limit of three gift cards per customer.
If you don't have a MasterCard, they sell pre-paid MasterCards online. I don't see any reason why they wouldn't work.