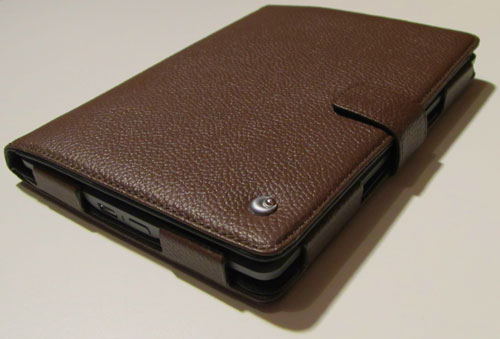 The folks at Noreve sent over one of their Kindle 4 leather covers for review, and I have to say it is one of the nicest ereader covers I've seen.
I've never used a Noreve cover before so had no idea what to expect. According to their about page, they are based out of France and have been making leather covers for electronic devices since 2004 and distribute them worldwide.
Noreve covers come in over a dozen color varieties and you can choose between four types of material:
Noreve 'Perpetual', classic soft leather protection,
Noreve 'Ambition', top quality pebble grain leather,
Noreve 'Exceptional', exclusive vintage texture,
Noreve 'Illumination', varnished leather selection.
With all the different choices it was hard to pick one, but as you can see from the pictures I ended up choosing the chestnut pebble grain cover for the Kindle 4.
The cover is really well-made. The leather has a nice high-quality feel. The material is thick and durable enough to provide ample protection. It has a magnetic strap to keep the front closed and tabs to hold the Kindle 4 securely in place, which I personally like a lot better than the straps that go over the corners like some covers. The tabs are well-placed and don't obstruct the buttons or ports either.
The inside of the front flap has slots for carrying items and a window for a picture or ID card. The front of the cover has a small metal piece on the bottom right corner—Noreve's logo.
When buying covers I usually go the budget route myself, but this is a premium cover and it shows. It seems like the kind of cover that will last a long time, unlike the cheap Kindle Fire cover I bought last month that's already falling apart. If you are looking for a good premium leather cover for your Kindle or other mobile device, Noreve covers are definitely worth a look.