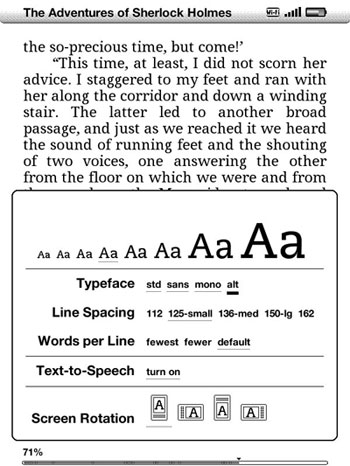 There's a simple trick to change the default font type to use custom fonts across all ebooks for Kindle devices (except the Kindle Touch and Kindle Fire). You can customize line spacing, margins, and justification as well. And this includes both DRM protected ebooks and ebooks without DRM.
The Kindle does not need to be jailbreaked or hacked in any way. All that is required to make font and layout changes is a free plugin for Calibre called Kindle Collections, some font files, and a few minutes to set everything up.
I've tested this on both the Kindle 3 and Kindle 4 with success. It can be a little tricky at first, but once you get it figured out it's easy to make font changes in a few seconds.
Here's how to use custom fonts on the Kindle:
1. Turn on your Kindle and go to the Homescreen (very important). Now plug your Kindle into your computer with the USB cable. You need to create a folder called fonts on the root of the Kindle, the top level of the Kindle drive, e.g. Kindle (F:).
2. Place OTF and TTF fonts of your choice into the folder (I'm using DroidSerif for this test).
There must be four font files for each font type (one for Regular, Bold, Italic, and BoldItalic) and the names have to be very specific so you'll need to make some changes. At the end of each font's name you have to add the style. Here are the examples for DroidSerif:
DroidSerif-Regular.ttf
DroidSerif-Bold.ttf
DroidSerif-Italic.ttf
DroidSerif-BoldItalic.ttf
You must add the dash – and Regular, Bold, etc. Underscores won't work and the names have to be exactly as shown. If your font doesn't have all four styles you can probably just make a copy of one or use a different font and change the name accordingly.
3. Install Calibre if you don't already have it.
4. Open Calibre and click the arrow next to the Preferences button and select Get plugins.
5. Scroll down to the Kindle Collections plugin and install it.
6. Calibre will automatically detect the Kindle (it should still be plugged into your computer) and then a Kindle Collections icon will appear on the top menu bar (provided you selected to add it there when installing it).
7. Select Kindle Collections and then Modify Kindle Settings.
8. A window will open with all the settings for modifying font and layout. The font types you added to the folder will show up on the list. Make the changes you want and make sure to check the box next to the selections to activate them and then save. A lot of times I get an error message after saving the first time and have to go through and do it again.
9. Once the changes have been successfully made, the plugin will tell you to Eject and Restart your Kindle. Do so. Here's how to restart the Kindle: from the homescreen, hit Menu > Settings > Menu > Restart. It will take a couple minutes to reboot.
10. Now open a book and see if it worked. For me, it always shows the Kindle's sans serif font by default. To get to the new font I always have to open the font menu and change to alt. If you go back and change to std, it will reset the menu and font to the original Kindle fonts and you'll have to use the plugin to do steps 6-10 again to get back to the custom font.
More information about the Kindle Collections plugin and troubleshooting can be found on the official Kindle Collections thread at MobileRead.