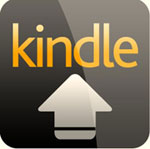 Amazon has released a really cool new application for Windows computers called Send to Kindle that allows Kindle users to easily upload and send personal documents and non-Amazon ebooks to Kindle devices, Kindle apps, and Amazon's cloud from a personal computer.
Send to Kindle stores your personal documents and ebooks to your Kindle account for storage and future retrieval. They get synced and backed up and are available for download anytime. You can even select to send the documents and not have them added to your Kindle library.
Basically it's like using the Kindle email service but without the emails. The app makes the process faster and a lot easier.
It works like this: Download and install the Send to Kindle app (it works with Windows or Mac). After signing in with your Amazon account, just right-click a document or multiple documents and click Send to Kindle, which brings up the window shown below with several options.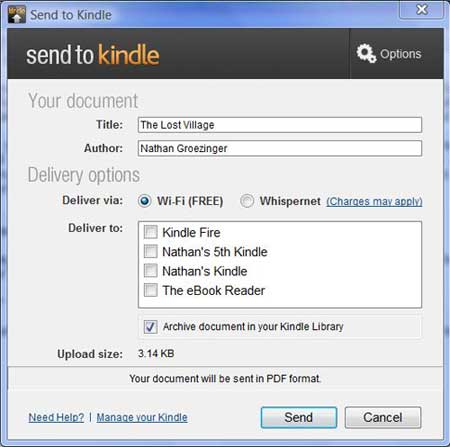 You can select which Kindle devices you want to send the document to, and choose to deliver it for free over Wi-Fi or pay to deliver it over Whispernet when applicable. You can change the name and author of the document/ebook, and choose whether or not to upload it to your Kindle library.
At present, the only Kindle apps that support having personal documents sent are the iPad and iPhone apps.
Send to Kindle Supported File Types
The Send to Kindle help page at Amazon lists the supported formats but it forgets to include DRM-free .prc and .mobi. I tried, and both worked, so I added them to the list.
Microsoft Word (.DOC)
Microsoft Word (.DOCX)
TXT (.TXT)
RTF (.RTF)
JPEG (.JPEG, .JPG)
GIF (.GIF)
PNG (.PNG)
BMP (.BMP)
PDF (.PDF)
MOBI (.MOBI)
PRC (.PRC)
In addition to right-clicking documents to send them, you can also select "Print" from any Windows application that supports printing, and then select "Send to Kindle". These get sent in PDF format.