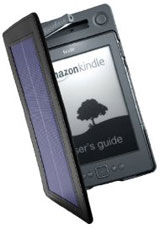 The SolarKindle is a lighted cover for Kindle ereaders that comes equipped with a solar panel on the front of the case for charging a reserve battery along with the Kindle's battery.
SolarFocus showed off demos of the SolarKindle cover at CES after announcing it last week so it has been getting plenty of news coverage. It is expected to start shipping around January 15th and costs $79.99. It's already listed on Amazon.com, complete with a couple of phoney reviews.
According to the specs, the cover's reserve battery requires eight hours of direct sunlight and provides up to 80% of backup power to the Kindle. One hour of charging in direct sunlight can provide almost three days worth of reading time.
The case measures 7.9″ x 4.7″ x 0.72″ and weighs 7.58 ounces so it is a little on the large side. It has a built-in 1500 mA battery that powers the reading light and provides extra juice for the Kindle.
The SolarKindle looks like a good idea even though it is expensive but it seems like something that would be a lot more useful for tablets. The Kindle's battery can last 2-6 weeks (2 months is total B.S. in my book) before needing to be charged; a tablet's battery needs charging every 5-10 hours. I'd rather have a solar panel on the front of my Kindle Fire cover.
SolarKindle Case at CES