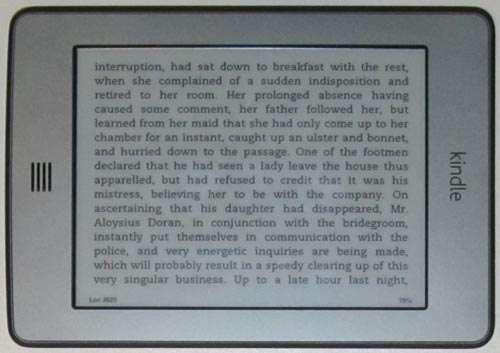 There's now a simple way to active landscape mode on the Kindle Touch. For some reason Amazon neglected to give the Kindle Touch landscape mode and they've yet to issue a firmware update to add it, but thanks to developers at MobileRead, activating landscape mode on the Kindle Touch is now as easy as playing an MP3 file, no jailbreaking or hacking required.
For the most part, landscape mode works well on the Kindle Touch and so does most of the features. There are still a few bugs that need to be worked out but the fix is still in its early stages. With a little more time it will probably be just about perfect. It makes you wonder what's taking Amazon so long.
How to Get Landscape Mode on Kindle Touch
This works by using the Kindle Touch's MP3 player to play a special MP3 that lets you manually control the screen rotation. It doesn't change the Kindle internally or modify any files. Just delete the MP3 file if you don't want to use it anymore.
I didn't create this and don't know the specifics of how it works. I just know that it does work. Hit the MobileRead link below for technical details.
Download the ZIP file from this post at MobileRead to your computer. There are two options. One with big buttons and one with small buttons. Both do the same thing and both are shown in the video below.
Unzip the downloaded file and transfer the MP3 file within to your Kindle with the USB cable. Place the MP3 file in the Kindle Touch's music folder. Then safely eject your Kindle from the computer.
From the Kindle's homescreen, tap Menu > Experimental and then tap to activate the MP3 player. Use the arrows to navigate to the proper file if you have multiple MP3s loaded.
To activate landscape mode, open a book and tap the top of the screen to open the menu. With the MP3 player active, you can always access the screen rotation settings from the menu. Just tap the "L", "R", and "U" buttons to change orientation. Tap the buttons twice slowly to change, or once then hit the play button—both ways seem to work.
What Works
Landscape mode works with ebooks and some PDF files, not with the homescreen list, Kindle store, or anything else. Sometimes it kind of works for other things, like the web browser, but it's not stable.
A lot of the Kindle features work in landscape mode: font size and style adjusting, highlights, dictionary, the menu, search, bookmarks, chapter skipping (vertical swiping), table of contents, and X-Ray.
What Doesn't Work
With partial page refresh active, it will stop turning pages in landscape mode after 6 pages. Either tap the top of the screen to open and then close the menu to get another 6 pages, or just go to Setting > Reading Options and turn Page Refresh on for every page and it will work without a problem.
Text-to-speech can do crazy things. I'd recommend not trying it while in landscape mode. A few tests froze my Kindle for several minutes; another time it kind of worked okay.
Notes, sharing, and entering page numbers and locations don't work because the on-screen keyboard obscures the buttons on the popup.
PDFs kind of work in landscape mode but don't seem to be as stable as they are in portrait mode. Some work better than others. I tested a few and sometimes they would freeze up.
Kindle Touch Landscape Mode Video