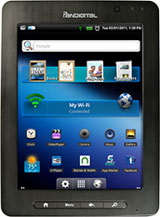 A reader sent in a tip about the Pandigital SuperNova and how easy it is to install the Android Market and Google apps, no rooting or hacking needed.
The Pandigital SuperNova is an 8″ Android tablet much like the Pandigital Nova that I reviewed and rooted several months back. The SuperNova is the better unit with its superior feature-set. It has a capacitive touchscreen instead of resistive, Bluetooth, and it has a faster processor—1 GHz opposed to 800 MHz.
Aside from the upgrades, the two units are pretty much identical. The SuperNova has an 8″ screen with a resolution of 800 x 600. It comes with 4GB of memory, 512MB of RAM, a microSD card slot, WiFi, front and rear facing cameras, a speaker, microphone, and micro-HDMI port. It runs Android 2.3 Gingerbread and ties in with the Barnes and Noble ebookstore.
How to Install Android Market on Pandigital Supernova
I don't own a Pandigital SuperNova and can't speak from personal experience, but the video below describes how to install the Android Market on the SuperNova and the process looks pretty straightforward and simple.
All the directions can be found under the description for this YouTube video. Basically, it goes like this (use these directions at your own risk):
Download this G Tablet zip file.
Use the SuperNova's ES File Explorer app to navigate to the downloaded G Tablet zip file and then long-press it to extract it.
Open the G Tablet folder and then the app folder. Install the apps in exactly this order:
Onetime initializer
Setup wizard
Google services framework
Gmail
Talk
Maps
Market (Vending.apk)
Don't open the Android Market after installing or hit done. Immediately power off the Pandigital SuperNova and restart.
Upon restart, select to use the launcher as the default. Open the Android Market and setup your account. That's it!
Pandigital SuperNova Android Market Video Tutorial