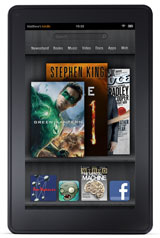 Amazon started rolling out a firmware update for the Kindle Fire earlier today. The new software version is 6.2.2.
Your Kindle Fire may have already updated itself automatically. To check, open settings then scroll down to "Device". The software number is listed below "System Version".
If your Kindle Fire hasn't updated yet, you can either wait for it to download the update automatically at some point or you can download the update file to your computer and sideload it onto the Kindle Fire (directions below).
I haven't had a lot of time to test out the update yet to find differences, but one new thing that Amazon added is full screen mode for the web browser. Funny, I just complained about the Silk browser not having full screen mode last week with 7 alternate web browsers for the Kindle Fire post. Now I can go back to using the Silk browser. Full screen makes a big difference, especially in landscape mode.
Installing the 6.2.2 Update Manually
(You could probably avoid using a computer by downloading the update with the Kindle Fire's web browser and then using the ES File Explorer app to move the update from the downloads folder to the kindleupdates folder.)
Download the 6.2.2 firmware update.
Plug your Kindle Fire into your computer with a USB cable. Drag and drop the 6.2.2 update file into the Kindle Fire's kindleupdates folder. After file transfer is complete, disconnect the Kindle from your computer.
Open the Kindle Fire's settings menu, scroll down and tap "Device", then press the "Update your Kindle" button.
As of this writing, the firmware update help article for the Kindle Fire at Amazon hasn't been updated for the 6.2.2 firmware yet. Once the page gets updated, Amazon should have more info about the changes posted over there.