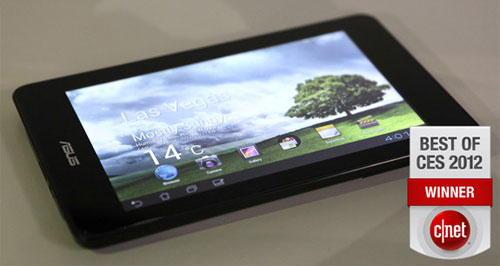 At CES 2012, Asus unveiled what has a chance to be one of the best 7″ tablets of the year, the Asus Eee Pad MeMo. The Kindle Fire and Nook Tablet better watch their backs.
What makes the Asus Eee Pad MeMo so attractive is the combination of high-end specs and low price, not to mention the fact that Asus is one of the top tablet manufacturers thanks to the success of their line of Asus Transformer tablets.
The exact specs and release date for the Asus Eee Pad MeMo haven't been finalized just yet. It is expected to be released in the second quarter of 2012—so sometime in April to June.
Here are the early details Asus revealed about the Eee Pad MeMo at CES:
7″ IPS display with 1280 x 800 resolution (the Kindle Fire and Nook Tablet have 1024 x 600 resolution screens).
NVIDIA Tegra 3 quad-core processor.
Android 4.0 Ice Cream Sandwich with full Android Market and Google apps.
Memory: 16GB plus Asus web storage.
1GB RAM.
Wireless: Wi-Fi, Bluetooth, SIM card slot (maybe).
8MP rear-facing camera.
Micro HDMI port.
Micro USB port.
Micro SD card slot.
Audio jack, speaker.
Battery: 8.5 hours video playback.
Weight: 400 grams (14.1 ounces).
Price: $249.
The early specs say it all: the Asus Eee Pad MeMo has better hardware than any other 7″ tablet, and the $249 price is the icing on the cake. Hopefully nothing major changes upon release. The quad-core processor, high resolution screen, and price are enough to unseat most competitors alone.
CNET seems to think highly of the Asus Eee Pad MeMo too. It was among 10 gadgets from CES 2012 to receive CNET's "Best of CES" award.
I can't wait to get my hands on one of these, especially since the Asus Transformer is my favorite tablet. Stay tuned for more Asus Eee Pad MeMo news and reviews.
Asus Eee Pad MeMo at CES