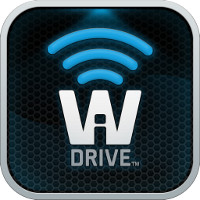 The Kindle Fire is Amazon's first tablet and while it has a lot of good things going for it, one of the three biggest disappointments with the Kindle Fire is the fact that it comes with just 5.37 GB of available storage space (plus an additional 1.17 GB for apps) and doesn't have any memory card slots or support for USB drives for memory expansion.
Amazon opted to use the opportunity to promote their cloud storage service on the Kindle Fire instead, where you store your files online with Amazon to access them from anywhere you have an internet connection. Cloud storage is a good option, and you can use other cloud storage services too (more on this below), but there are some other ways to add more storage, ones that don't require you to be connected to the internet to use them.
Three ways to increase the Kindle Fire's storage space
#1. Kingston Wi-Drive – The Kingston Wi-Drive is an external hard drive that connects to the Kindle Fire using Wi-Fi. Kingston Wi-Drives come in 16 GB and 32 GB varieties, and soon 64 GB as well. They work with Apple's iDevices too.
Up to three devices can be connected to a Kingston Wi-Drive at a time, and each user can access different content simultaneously. You use the Wi-Drive Android app on the Kindle Fire to access the device. The Wi-Drive also lets you connect to a second network so you can access the internet while using it.
Links:
Kingston Wi-Drive Kindle Fire User Manual
#2. Splashtop Remote Desktop – The Kingston Wi-Drive is a good option is you want portable storage and the ability to easily share it with other devices at the same time, but if you want to easily access all the files on your PC and stream them to the Kindle Fire, the Splashtop Remote Desktop App can do just that.
You can literally access and use all your programs and files on your computer from the Kindle Fire itself. And as long as your computer is turned on and has Splashtop Streamer running you can access it from anywhere your Kindle Fire has an internet connection.
There are also other apps that you can use to access your computer to transfer and stream media from a Kindle Fire and vice versa. WiFi File Explorer PRO is one example and is available from the Amazon appstore on the Kindle Fire.
#3. Kindle Fire Cloud Storage – Amazon isn't the only place that offers cloud storage; there are many choices. Below are three that I'm familiar with that work on the Kindle Fire, and each offers free space. Sign up for all three and you'll already have over 12 GB of free space, with the potential of getting up to 50 GB or more in free storage space by referring others.
Amazon Cloud Drive – You automatically get 5 GB of free storage space, plus unlimited space for photos, with new Kindle Fire tablets. Plans are $12 per year for the standard option and $60 per year for unlimited storage.
SugarSync – Get 5 GB free for signing up and up to an additional 32 GB for referring others to the free plan, or you can get limitless free space if your referrals sign up for a paid plan. Paid plans start at 30 GB for $4.99/month or $49.99/year and go up to 500 GB for $39.99/month or $399/year, with 60, 100, and 250 GB plans in between. Update: They no longer offer free plans.
Dropbox – Starts out with 2 GB of free space, and can be built up to 10 GB of free space by getting other people to sign up. Paid plans are 50 GB for $99 per year or $9.99 a month; 100 GB is $199/year or $19.99/month. The Dropbox Android app is available from the Amazon appstore but it doesn't show up from the Kindle Fire, at least not yet. But you can download and install the app directly from the Dropbox website (link above) as long as you have 3rd party app installs enabled on the Kindle Fire in the setting menu.