TOC 2012 Video Roundup – The Future of Publishing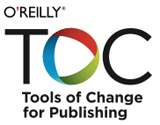 The 2012 O'Reilly Tools of Change for Publishing Conference was held this week in New York. Much of the focus was of course on the future of publishing, especially digital publishing.
Below is a roundup of videos from TOC. More videos from TOC 2012 can be found on the O'Reilly YouTube Channel. There are lots of interviews and interesting discussions.
Matt MacInnis, "The Death of the Page, the Dawn of Digital"
Barbara A Genco, "Public Library Power Patrons Are Your Best Customers"
Joe Karaganis, "Copy Cultures"
Tim Carmody, "Changing Times, Changing Readers: Let's Start With Experience"
LeVar Burton, "Keynote"
Baratunde Thurston "Keynote"