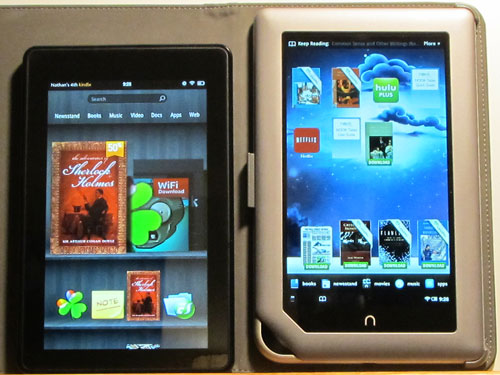 Barnes and Noble hasn't released any actual sales figures for the Nook Tablet, and neither has Amazon for the Kindle Fire, but if you look closely at some of the signs it becomes clear that the Nook Tablet isn't selling nearly as well as the Kindle Fire.
Since I don't have access to any hard proof, I'll show you the evidence that suggests Nook Tablet sales aren't very good. Here are three things to consider…
The first sign that the Nook Tablet isn't selling well: This past Thursday the Nook Tablet was the Daily Deal on eBay. It was selling for the lowest price ever at $199. Daily Deals are only supposed to last for 1 day, but it's 4 days later and the Nook Tablet is still $199 on eBay.
They probably had a set amount they could sell at that price and they still haven't reached it so the deal continues. The first page they had deal on sold 770 units and the current page is at 2,605 sold.
Averaging about 1,000 units per day may sound good at first glance, but it most certainly is not, especially when you consider this is the lowest price the Nook Tablet has ever sold for. And then there's the fact that this deal has gotten plenty of news coverage through a lot of major websites.
We don't have any comparable Kindle Fire sales figures to contrast with that, but consider this: Analysts estimate Amazon sold approximately 3.9 million Kindle Fires in 2011. And since the Kindle Fire was released in the middle of November it was only out for about 48 days. That equates to Amazon selling about 81,250 Kindle Fires per day in 2011!
Granted that's during the busy holiday season, but it still illustrates just how pathetic 1,000 Nook Tablet units per day is at their lowest price ever.
The second sign the Nook Tablet isn't selling as well as the Kindle Fire: Since we don't have access to the sales numbers, let's compare the number of reviews for each device. Right now at Amazon the Kindle Fire has 14,166 reviews.
At B&N, the Nook Tablet has 1,109 reviews, less than 10 percent that of the Kindle Fire. Granted this comparison is flawed in some ways—people are more likely to leave reviews at Amazon than B&N—but it still provides some insight into which one is selling better, especially since they were both released at the exact same time.
The third sign the Nook Tablet isn't selling as well as the Kindle Fire: Using Google's Insights for Search tool, you can see how much more search volume there is for the Kindle Fire over the Nook Tablet. There are a lot more people running searches related to the Kindle Fire than the Nook Tablet.
It also shows there are a number of people searching for something called a Nook Fire. I don't know where to pick up one of those but I'll keep my eyes open :).
Conclusion: All signs point to Amazon selling way more Kindle Fires than Barnes and Noble is selling Nook Tablets. But we don't have any proof and likely never will. Given the fact the two devices are so much alike and offer a lot of the same features, it makes one wonder what it is about the Kindle Fire that draws more people in. Is it the simple fact that the Kindle Fire costs $50 less? Or is it because it has Amazon's name on it and Amazon's services tied to it? Is it because the Nook Tablet is locked into B&N for content where the Kindle Fire is open to sideloading?
If someone were to give you one or the other for free, which would you choose? The Kindle Fire or the Nook Tablet.