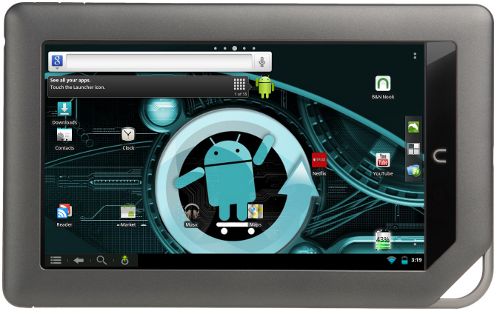 CM7 is free open source aftermarket software for Android-powered devices that is based on Android 2.3.4 Gingerbread. It provides for a more customizable and open alternative to the stock interface of the Nook Tablet that is locked into Barnes and Noble and cutoff from its true Android roots.
The video review below will give you a look at CM7 on the Nook Tablet and what features it offers, and then the tutorial will guide you through the entire process of setting up CM7 on your Nook Tablet from beginning to end.
Right now the process is for internal installs only so you need to have a rooted Nook Tablet with CWM recovery installed to run CM7. Soon you'll be able to run CM7 off a memory card like the Nook Color if you don't want to root your Nook. Subscribe to The eBook Reader Blog to receive updates to get directions for that when it's released.
My experience so far with CM7 on the Nook Tablet has been smooth; I haven't even had any force-closes yet. The touchscreen is responsive and everything reacts quickly. The Android Market is working great. YouTube and Netflix both seem to be working okay, not quite as well as the stock Nook because it's not HD. I tried some games and they ran perfectly. Wi-Fi connects well. Impressive.
Nook Tablet CM7 Video Walkthrough
Nook Tablet CM7 Install Directions
1. First, your Nook Tablet needs to be rooted. Follow these directions for rooting the Nook Tablet.
2. Once your Nook Tablet is rooted, you need to install CWM recovery. Head over to XDA and download and install the Nook Recovery Flasher.apk.
Just open up the Nook Recovery Flasher app and tap the button that says "Flash CWM". It takes a couple of seconds and will say when it's done at the top. Now you can open up this app anytime and tap the "Reboot Recovery" button to launch CWM recovery. Here's what it looks like…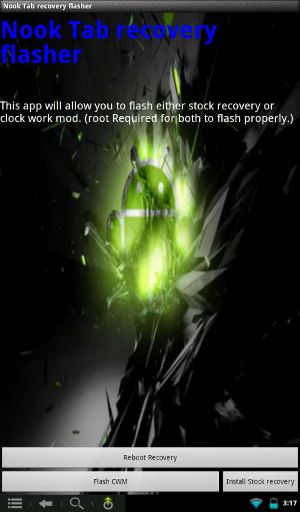 3. Download the latest Nook Tablet CM7 package from over at XDA and place the zip file as is on a MicroSD card and insert it into your Nook Tablet.
4. Boot your Nook Tablet into recovery mode using the Nook Recovery Flasher app. Use the volume buttons to move the cursor, the Nook's "n" button to make selections, and the power button to go back to the previous menu.
5. The number one first thing you need to do is create a backup of your Nook Tablet so that you can restore it back to its current condition if something goes wrong with the CM7 install or you decide you don't like CM7. Go to "backup and restore" and select "backup". It will take some time to complete and will tell you when it's finished. Then if you want to restore it at a later time just go to the restore menu to apply it.
6. Time to install CM7 on your Nook Tablet. Go to "install zip from sdcard", then "choose zip from sdcard", and then select the CM7 file, CM7_NT_alpha12_Public1.zip, and then confirm by choosing "yes". If your SD card isn't showing up on the list, try removing it and then putting it back in.
7. Once the CM7 install is completed, hit the power button to back out to the previous menu. Now navigate down to "wipe data/factory reset" and proceed to do a factory reset. That's it. Now you can select "reboot system now" to take CM7 for its first test drive.
Note: If you are installing CM7 again after already having CM7 up and running, it's a good idea to go to "wipe cache partition" and wipe the cache as well as the Dalvik cache in the "advanced" menu just to be on the safe side.
8. When CM7 boots the first time, skip the sign-in process and advance to the homescreen. From there, hit the menu button and choose settings to go in and setup Wi-Fi. Once Wi-Fi is setup the Android Market app will appear in the app drawer. Open it and then sign in to your Google account and you're good to go.
Thanks to everyone at XDA for getting CM7 to run on the Nook Tablet!
If you are having problems with this check out the official Nook Tablet CM7 support thread at XDA.