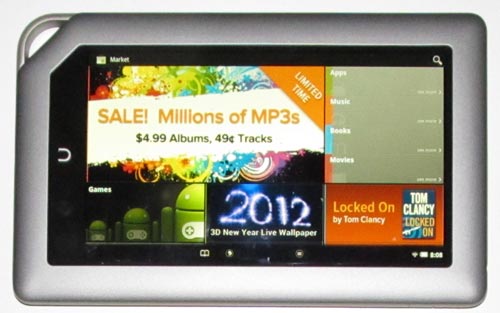 Below is a step-by-step tutorial that includes a video walkthrough on how to root the Nook Tablet, install the Android Market, block OTA firmware updates, and other goodies—everything you need to turn it into a proper Android tablet not controlled by Barnes and Noble. Plus you can choose to keep the Nook's regular features too, or remove them altogether, it's your choice.
When Barnes and Noble first released the Nook Tablet, it came with a convenient loophole that allowed users to download and install apps from outside the Nook appstore, including Amazon's appstore. But then B&N released a firmware update, version 1.4.1, right before Christmas that closed off this functionality and locked the Nook Tablet down from installing non-B&N apps.
Since the update, the only way to install non-B&N apps is to root the Nook Tablet. The good news is the rooting process is relatively simple, and grants access to other benefits, such as getting apps from the Android Market. So let's get started.
First, I would recommend reading through all the steps and watching the video once before beginning. Some steps aren't needed for everyone, depending on the results as you go. The trickiest part is installing the proper drivers; I had everything go wrong in that department so all the necessary fixes are included in the tutorial. Oh, and this rooting process is for Windows.
Also, I'm not an Android expert and never will be. All I did was follow the directions from over at XDA. Pretty much everything I know about rooting the Nook Tablet is written below, so I'm not a good person to ask questions if you encounter a problem; I'd suggest hitting the Nook Tablet threads at XDA for troubleshooting.
Root your Nook Tablet at your own risk; I am not responsible if it breaks, blows up, or becomes self-aware and revolts against mankind.
Update: This method works on a 16GB Nook Tablet only! Refer to these directions for rooting an 8GB Nook Tablet.
[box type="alert"]Update #2: There is now an easier way to root a Nook Tablet. Here are directions on how to root a Nook Tablet using a memory card.[/box]
Step #1 – Restore Nook Tablet to 1.4.0
For this rooting method you need to revert the Nook Tablet back to firmware 1.4.0.
To check firmware version, go to Settings > Device Info > About your Nook > Software Version. If your Nook Tablet is somehow already at 1.4.0 (not likely) you can skip to Step #2. Otherwise refer to this earlier post: How to Restore the Nook Tablet to 1.4.0.
Step #2 – Install Hidden Settings App
Now that your Nook Tablet is running good ole 1.4.0, it is time to install an app to access the hidden settings menu to enable 3rd party app installs and USB debugging mode.
Download this NT Hidden Settings app using the Nook Tablet's web browser.
Tap the arrow icon in the lower left when it appears for the download and tap the file to prompt install.
Select "Package Installer", always. Then select Settings.
Check the box to enable install from unknown sources.
Tap Development, then check the two boxes that say USB debugging.
Back out of the settings menu to the browser and then tap the downloaded Hidden Settings app again to install it so you can use it to access those hidden settings again later.
Turn off Wi-Fi.
Step #3 – Setup Drivers
This was the hardest part for me but for most people it should be relatively simple, depending on what version of Windows you are using. If you are lucky your Nook Tablet's drive will show up in the Device Manager with a small exclamation point next to it right away so you can skip to Step #4. If not, follow these directions and the video closely to get to that point.
With USB debugging enabled on your Nook Tablet, connect it to your computer with the USB cable. If Windows prompts to install new drivers, just close the box and don't worry about that for now.
On your computer open the Device Manager. I get to it by typing device in the Windows search bar.
If the Nook Tablet's drive shows up on the Device Manager list with a small exclamation point next to it, skip to Step #4. My Nook's drive showed up under Portable Devices with a blue icon next to it—that's not good. If yours doesn't have the exclamation point next to it either, try these fixes:
Fix A: Uninstall the USB Mass Storage Device for the Nook under the Universal Serial Bus controllers list from Device Manager. It's easiest if you unplug all other devices from your computer so the Nook's USB Mass Storage Device is the only one listed.
If that works the Device Manager will refresh and your Nook Tablet drive will have an exclamation point next to it. Mine just disappeared entirely and trying over several times resulted the same so I had to move on to the next fix.
Fix B: Download USBDeview. The download link is toward the bottom of the page. Unzip the package and open "USBDeview.exe". With some version of Windows you have to right-click and run as administrator.
USBDeview shows all the USB devices on your computer. Hit the find button and search for "android". Right-click and uninstall all devices that have Android in the name. I also uninstalled all the ones with Nook in the name but don't know it that matters or not.
Finally, go back to the Device Manager. If the exclamation point still doesn't show next to the Nook Tablet drive, wake the Nook from sleep (it should still be plugged into your computer) and go open the Hidden Settings app again. Un-check, then re-check to enable USB debugging (use the one at the top).
A little Android bug should have appeared in the left corner on the Nook's notification bar and the exclamation mark should now be next to the Nook Tablet drive on the Device Manger list. If not, make sure all the Android devices were uninstalled with USBDeview and try again. If that still doesn't work try a different computer or hit this USB Drivers help thread at XDA.
Step #4 – Update Driver Software
Download the USB drivers package and unzip it (credit).
From the Device Manager list, right-click the Nook Tablet drive with the exclamation point to the left of it. Select "Update Driver Software."
Select "Browse my computer for driver software".
Now make sure to select the path where you unzipped the USB drivers package. Then hit Next.
A security warning will pop up about installing driver software from an unknown publisher. You have to approve it before it will install.
Step #5 – Root, Install Market, Block Updates, etc
Now the easy part.
1. Download the NookAndZergy.zip file and unzip it to a suitable location on your computer (credit).
2. With your Nook Tablet connected to your computer with the USB cable, double-click the NookAndZergy.bat file that was inside the NookAndZergy.zip file. A window will open. Verify there is a device number under where it says list of devices attached. If so, proceed. If not, the driver software did not install correctly.
3. From here, just read the on-screen directions and make your choices as you go. Rooting is the first step. Then installing Gapps, which is Google apps for the Android Market. It asks to choose from a list of Android launchers to install. You'll have the option to remove certain apps that come pre-installed on the Nook, and to assign the "n" button. Toward the end you'll get the option to block OTA updates, which is highly-recommend so your Nook doesn't automatically install firmware updates, thus breaking root. Once everything is finished the command window will close automatically and you are done.
Note: I encountered a slight problem halfway through #3. After selecting to install Go launcher, the script froze up and stopped doing anything for a few minutes. I left the command window open and unplugged the Nook Tablet from the USB and then plugged it back in. The script then said tap any button to continue and started back up again where it left off.
Rooting the Nook Tablet – Video Walkthrough
This video outlines all the steps listed above for rooting the Nook Tablet for those of you that need a visual guide.