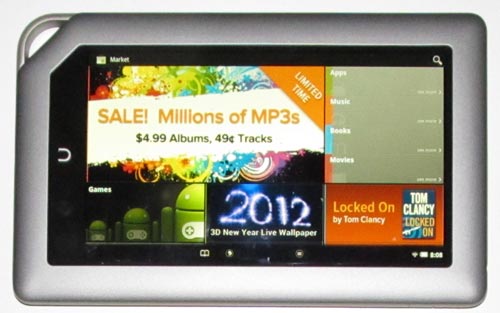 A little over two months ago, I posted the Nook Tablet Rooting Guide for a complete walkthrough on rooting the 16GB Nook Tablet and setting up drivers on a Windows computer.
Since then things have changed. The rooting process is simpler now, thanks to an SD card rooting method. You simply burn an image to a microSD card and have it do all the work, with no need to connect to a computer to setup drivers.
I posted about the SD card rooting method for the 8GB Nook Tablet last week. This post is for the 16GB Nook Tablet. Make sure to use the proper method for you Nook or it will become bricked.
This process will root a 16GB Nook Tablet running any version of firmware, from 1.4.0, 1.4.1, 1.4.2, and 1.4.3. It will also install the list of apps below:
superuser
gapps (Google Apps, i.e. Android Market)
unknown sources hack
ez file explorer
adw launcher
Home Catcher
Home Manager (allows you to switch between launchers easily)
BHT
busybox
NT Hidden Setting
GetJar
Amazon App Store
Slashtop HD (Free from getjar)
Disclaimer: I did not create this rooting method and haven't tried it because my Nook Tablet is already rooted. As always, this is a collaborative effort from the good folks at XDA. If you have questions or want to offer thanks I'd suggest visiting the original SD Card rooting thread. Also, rooting is generally considered to void the warranty on your Nook, so consider yourself disclaimed.
How to Root a Nook Tablet with an SD Card
1. First, you need a 2GB or larger microSD card and a microSD card reader if your computer doesn't have one.
2. Download the bootable root zip package to your computer and unzip it.
3. Write the image within onto the microSD card using a free program such as WinImage or Win32DiskImager. Mac and Linux users can use dd command, apparently.
With WinImage, right-click and open as administrator. Select Disk, then "restore virtual hard disk image on physical drive". Select your microSD card and hit OK. Select the image file (you'll need to select "all files" in the drop-down to get it to show up). Then select "Yes" and it will proceed to write the image to the memory card.
4. Power off your Nook Tablet. Insert the memory card and turn on your Nook. Select "apply update.zip from sdcard". Once it is finished, remove the sd card and then reboot. That's it. Your Nook Tablet should now be rooted!
Now that your Nook Tablet is rooted, you can install ROMs if you are so inclined. Check out Android 4.0 on the Nook Tablet as well as CyanogenMod 7 for a custom version of Android 2.3 Gingerbread.