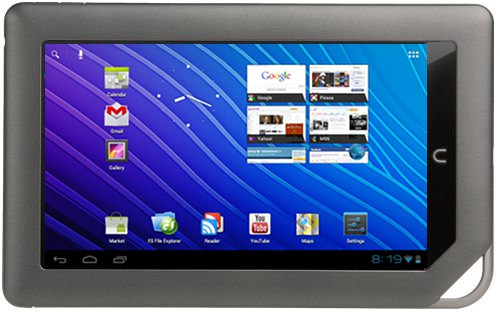 There is now an Alpha release of CyanogenMod 9 available on the Nook Tablet for Android 4.0 Ice Cream Sandwich. The build is still in its early stages of development so it's not recommended for public consumption at this point, but I went ahead and installed it anyway and am surprised by how well it works and how smooth it is already.
I decided to put together a video review showing Android 4.0 Ice Cream Sandwich on the Nook Tablet, and a second video showing how to install CM9 on your Nook Tablet and how to add Google apps.
The first video is a general walkthrough of how everything looks and operates with Android 4.0. Transitions are smooth. Wi-Fi connects well. Sound works, and so does the accelerometer for automatic screen rotation.
As expected with an early release, there are some bugs and features that don't work yet, such as video decoding, the microphone, Bluetooth, and there's a sleep bug that requires holding down the power button and restarting if it goes to sleep.
I also flashed the ICS Google apps right after installing CM9 on my Nook Tablet and they are working well—Gmail, Calandar, Maps, Search, Reader, YouTube. The Android Market updated to Google's new Play Store and I was able to download some apps without a problem.
I tried a few games and they worked fine. So do widgets, live wallpapers, the recent apps list, and sd card. Regular definition YouTube videos play okay, but not HD. Flash doesn't work with the web browser yet either. All in all, it's very similar to CM9 on the Kindle Fire at this point, which I reviewed last week. CM7 on the Nook Tablet is more polished for everyday use; CM9 needs a little more time to catch up.
Nook Tablet with Android 4.0 Video Walkthrough
How to Install Android 4.0 (CM9) on the Nook Tablet
Once the developers get everything working and the bugs ironed out, you will be able to run CM9 off a memory card, which won't require rooting the Nook Tablet or modding it in any way. Right now CM9 has to run off the internal memory. Subscribe to keep updated on when a stable sd card version is released to the public.
1. Your Nook Tablet needs to be rooted to install CM9 on the internal (emmc) memory. Hit the Nook Tablet rooting guide for directions.
2. Once rooted, you need CWM recovery installed. Hit this link to download the Nook Recovery Flasher.apk from over at XDA and install it on your Nook Tablet. The Nook Recovery Flasher app is pretty self-explanatory. Open it and choose to "Flash CWM". It will say when it's finished at the top. Now use this app anytime to launch CWM recovery by tapping the "Reboot Recovery" button.
3. Download the latest CM9 package for the Nook Tablet from this thread at XDA. Then download this Google apps package for Android 4.0. Place both zip files as is on a microSD card and insert it into your Nook Tablet.
4. Boot your Nook Tablet into recovery mode using the Nook Recovery Flasher app. Use the volume buttons to move the cursor, the Nook's "n" button to make selections, and the power button to go back to the previous menu .
5. Before doing anything else, it's a good idea to go to the "backup and restore" menu and create a backup so you can revert back to how your Nook was before installing CM9. It will take it a few minutes to complete the backup.
6. After creating a backup, hit the power button to go back to the main menu and then select "wipe data/factory reset" to perform a factory reset. This step may not be absolutely required but I always do it anyway.
7. From the main menu, select "install zip from sdcard", then "choose zip from sdcard". Select the CM9 file that you added to the memory card and confirm by choosing "yes". If your SD card isn't showing up on the list, try removing it and then putting it back in.
8. Once the install is completed, hit the power button to back out to the previous menu. Now navigate down to "wipe data/factory reset" and proceed to do a factory reset again.
9. Now it's time to install the Google apps. Just go back to "install zip from sdcard" again and select the Google apps zip from the list to install it.
10. Then select "reboot system now" from the main menu. Connect Wi-Fi. Then enter your Google account. Done!
Until the sleep of death bug gets fixed you're going to want to go into settings > display and change the screen timeout to something longer than the 1 minute default.
Video: Installing CM9 on a Nook Tablet