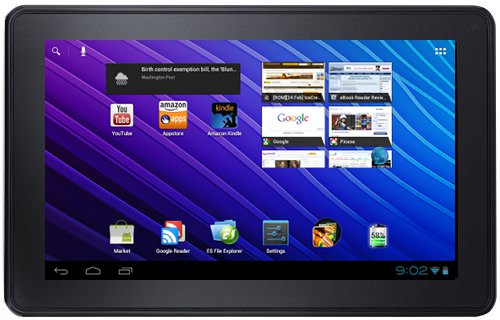 Running Android 4.0 on the Kindle Fire is one of the many options to change out the operating system from Amazon's version to one that is more open and widely available on other tablets and smartphones.
I've already posted a review and how to guide for CM7 on the Kindle Fire, a custom version of Android 2.3 Gingerbread. For this review and tutorial I'll show you CM9 on the Kindle Fire for the latest version of Android 4.0 Ice Cream Sandwich.
Installing custom ROMs adds more functionality and features to the Kindle Fire, and adds a lot more options for customization.
There are different ROMs for getting Android 4.0 Ice Cream Sandwich on the Kindle Fire. Some have different themes and tweaks. For this review I'm using the February 24th release of the straight CM9 (CynangonMod) ROM from over at XDA.
I've been running Android 4.0 on my Kindle Fire for a few days now and so far I'm very impressed with how smooth it is and how well it works. The developers at XDA have done a great job with it. It's still not complete yet so not everything works, but it's about 90% there.
The main things that don't work as of the 2/24 release are hardware video decoding, so Netflix, HD YouTube videos and other videos won't run. Wi-Fi can be spotty at times (re-booting usually fixes that), and sometimes the Kindle will freeze up. When that happens, holding the power button for like 15 seconds turns it off so you can reboot.
A few other things that don't work are Flash video and the light sensor. Here's the complete buglist for this version of Android 4.0 on the Kindle Fire.
Aside from the bugs, Android 4.0 runs surprisingly well on the Kindle Fire. It's fast and smooth. Screen transitions are quick and the touchscreen is accurate and responsive. Video games work well, the ICS web browser is really nice, you can add widgets to the homescreen, and drag and drop apps, and create folders. Some non-HD YouTube videos work okay. Google Apps seem to be working well, including Gmail, Maps, Calendar, Market, Search, and Google Reader, among others.
Obviously you lose the Kindle Fire's stock functionality when running ROMs, but you can still use Amazon's appstore app, the Kindle app, MP3 app, and shopping app. It's not exactly the same experience but it's close. For instance, the regular Kindle for Android app doesn't have all the text adjustment options the Kindle Fire's app has, and apps that are specially made for the Kindle Fire won't show up in Amazon's appstore when running a ROM, the ones that say Kindle Fire Edition.
Overall Android 4.0 is impressive on the Kindle Fire, even if it's not entirely finished and ready for prime time yet. CM7 is more polished at this point—for one it has hardware video decoding so videos work—but I like CM9 a lot better. Android 4.0 is more suited for tablets and it's a better operating system overall.
I don't need to watch videos on my Kindle Fire so I going to keep running CM9 on it as the primary operating system. Once video gets added it will be even better. The only thing I'm really missing are some of the Kindle Fire Edition apps, but I can always switch back to the stock operating system to use them.
How to Install Android 4.0 on the Kindle Fire
Installing custom ROMs on the Kindle Fire is a lot easier than you think. The entire process can be completed in about 20 minutes. All you need is a rooted Kindle Fire and a recovery tool such as TWRP Recovery installed.
First, follow the directions on the Kindle Rooting guide. Then check out the TWRP Recovery tutorial and you'll by running Android 4.0 on your Kindle Fire in a no time. You can even flash the Google apps package after flashing CM9 to get the Android Market and Google apps.
Here's the thread at XDA to download CM9 and the Google apps pack for the Kindle Fire.
Video: Kindle Fire with Android 4.0 Walkthrough