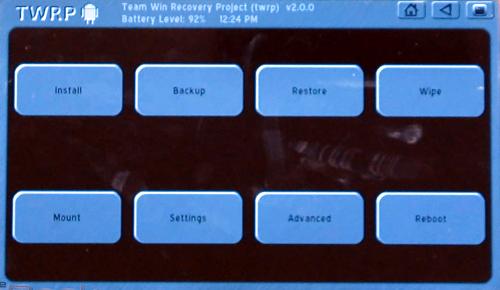 This article will show you how to install and use TWRP Recovery on the Kindle Fire to flash custom ROMs on it to transform it into a completely new tablet with different builds of Android—CM7, aka Cyanogenmod 7, for Android 2.3.4 or CM9 for Android 4.0, MIUI, Android 4.1 Jelly Bean, and various other ROMs.
Among other things, you can also use TWRP Recovery to backup ROMs and backup your Kindle so that it can be restored to exactly how it was before installing ROMs. It sounds complicated at first but after you do it a few times it becomes really easy.
Installing TWRP Recovery on Kindle Fire
1. The first step to modding your Kindle Fire is to root it, which will give you access to files not normally accessible to the user. Rooting is extremely easy thanks to a tool created by Android developers called the Kindle Fire Utility. Just follow the Kindle Fire rooting guide and you'll be ready for the next step in a matter of minutes.
Update: I rooted my Kindle Fire before doing any of this but I've heard that if you just want to install ROMs, you can use the Kindle Fire Utility to install FireFireFire (FFF) and TWRP Recovery without rooting.
2. To install FFF and TWRP, all you have to do is plug your Kindle into your computer and then fire up the Kindle Fire Utility tool by double-clicking the run.bat file. Make sure the drivers are working properly by confirming ADB status is online. If not, you may need to re-install the drivers again (described in the rooting guide above).
3. With KFU, installing FFF and then TWRP Recovery is a simple matter of choosing a number and then hitting enter. This is an easy but very important step. Just make sure to follow the directions on-screen very carefully and everything will go smoothly. The Kindle Fire Utility will automatically download the latest version of FFF and TWRP Recovery and activate Fastboot (4002). Some different screens will flash on your Kindle Fire and at one point you'll be asked to press a button to reboot.
The Kindle Fire Utility will tell you when the process is complete. Then you can close KFU and unplug the Kindle Fire from your computer to move on to the next step.
So TWRP Recovery is Installed, Now What?
With TWRP Recovery and FFF installed, the Kindle Fire will show a blue logo for several seconds upon boot up. Do nothing and your Kindle Fire will boot up normally.
How to open TWRP Recovery:
Shut down your Kindle Fire.
Press the power button to turn it on.
When the blue logo appears, press the power button and then release it when boot options appear at the bottom of the screen.
Tap the power button to change boot selections. Select Recovery to launch TWRP.
Then a Team Win logo will appear and you'll be greeted with a screen that looks somewhat like the one at the top of this page.
Update: Since this tutorial was written, TWRP Recovery has been updated and is a little different now. For one, it use to show a yellow triangle at boot up and you had to hold the power button to launch TWRP. Now it appears that you have to install FFF to launch TWRP. Also, the TWRP menu system has changed slightly from the video and directions below, but it's all still basically the same.
Create a Backup
The first thing you are going to want to do is create a backup of your Kindle Fire in its current state so that you can restore it using TWRP at any time in the future. You can view your list of backups and apply them from the Restore menu in TWRP.
You can go in and create backups anytime, even of ROMs if you want to save their current state before switching to another ROM.
The Kindle Fire has a small amount of internal memory, however, so remember to keep an eye on it. Backups aren't small. At some point you're going to need to delete some or move them off the Kindle. They get saved to in the TWRP folder on the internal SD card.
How To Install ROMs on Kindle Fire
One of the cool things TWRP can do is install ROMs, which essentially turns your Kindle Fire into a completely new tablet and does away with Amazon's operating system entirely.
Prerequisites
First, you're going to need to download a ROM or three. Hit the XDA Kindle Fire Development thread to find them. I've posted videos and reviews for CM7 and CM9 for Android 4.0. Subscribe to keep updated on future reviews.
Place the ROM zip file on the root of the Kindle Fire's internal SD card (/sdcard). One option is to use the Kindle Fire itself to download the ROMs and then use a file manager to move them to /sdcard, or just use TWRP to navigate to the downloads folder.
7 Steps to Installing ROMs
Open TWRP Recovery on your Kindle Fire.
Create a backup (optional).
From the Wipe Menu choose Factory Reset to wipe the data to get a clean slate to install a new build of Android on.
From the Install menu, select a ROM zip file from the list that you added to the internal SD card and press the Flash button. TWRP will proceed to install it and code will appear on the screen, along with a progress indicator.
When the install in complete (don't worry about the cannot load volume warnings), three buttons will appear at the bottom of the screen. Select to Wipe Cache/Dalvik.
If your ROM package had a Google apps file to download along with it, go back to the Install menu again and flash the Google ZIP file the same way as the ROM. You won't need to wipe Cache again though.
Once finished, select Reboot – System. Your Kindle Fire will now boot up with the new ROM.
Video: Using TWRP to Install ROMs and Make Backups