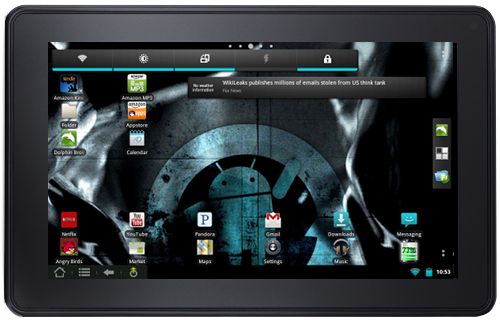 CynangonMod is aftermarket software for Android phones and tablets, including the Kindle Fire. Developers have been hacking the Kindle Fire since day one so it's not surprising to see CM7 running on Amazon's first tablet.
There are different versions of CynangonMod, each based on a different version of Android. CM7 is for Android 2.3 Gingerbread. The Kindle Fire runs on Andoird 2.3 natively but it's been heavily modified by Amazon to include the Kindle Fire's unique interface.
By installing CM7 on the Kindle Fire you can get more of a true Android Tablet feel by shedding Amazon's operating system entirely. You can install different homescreen launchers, wallpapers, widgets, etc. It also opens up the ability to install the Android Market and Google apps for the full Android tablet experience.
Of course you can keep the stock Kindle interface and still have the Android Market and some Google apps simply by rooting the Kindle. One thing I noticed, however, is that not as many apps show up in the Market that way; on CM7 more apps are showing up for some reason.
Should I Install CM7 on my Kindle Fire?
If you like your Kindle Fire but are sick of Amazon's limited interface and want more customization, openness, and access to the Android Market and Google apps, and have already tried rooting, then you should give CynanogenMod 7 a test drive.
Normally I would recommend CM9 over CM7 because CM9 is based on Android 4.0 and offers a new interface and a bunch of new features and improvements, but right now (the end of February), CM7 is more polished than CM9.
CM7 is smoother and less buggy for the Kindle Fire at this point in time. Everything seems to be working well. CM9 still needs a little more time to develop, especially since hardware video acceleration doesn't work yet, meaning videos and games are limited.
Here are some pros and cons that I've noticed with running CM7 on the Kindle versus the stock operating system.
What you Gain by Installing CM7 on the Kindle Fire
New homescreen.
Add whatever Android Launcher you want (homescreen).
Custom themes for launchers.
Android Market and full Google app support.
Can still use Amazon's appstore app, as well as their MP3 app, shopping app, and Kindle app.
Support for widgets.
Organize apps however you want.
Add apps, bookmarks, shortcuts, folders, ebooks, and more to the homescreen.
Supports many languages.
Change wallpapers, live wallpapers, custom wallpapers (and they stick unlike using Go Launcher without rooting.)
Recent apps list is very handy (hold home button).
Easily take screenshots.
New keyboard, can install other keyboards.
Access to a lot more applications.
More settings and customizations.
What you Lose by Installing CM7 on the Kindle Fire
The entire Kindle Fire operating system as you know it.
Kindle Fire specific apps: The apps in Amazon's appstore that say "Kindle Fire Edition" in the title won't show up when running CM7.
Carousel.
Reading app: you can install the regular Kindle for Android app on CM7 but it is more basic than the Kindle Fire's reading app, so you lose some features like the additional font types, margin and spacing adjustments, sending personal documents, etc.
Amazon video app: You can probably use the web browser to watch Amazon's videos that way but I haven't confirmed.
Silk web browser: you can sideload a copy of it from over at XDA but last time I checked it wasn't updated with the new fullscreen option that was added with the last firmware update.
Warranty: Typically rooting a device and installing custom firmware is a good way to void the warranty (you can almost always flash a device back to pure stock so I've never really understood this point).
How to Install CM7 on the Kindle Fire
Installing custom ROMs on the Kindle Fire is a simple task once you've rooted it and installed TWRP Recovery.
Just follow the directions on the TWRP Recovery guide and you'll by running CM7 on your Kindle Fire in a few minutes. As described in the directions, with CM7 you need to flash the Google apps package after flashing CM7 onto the Kindle Fire to get the Android Market and Google apps.
Here's the thread at XDA to download CM7 as well as the Google apps package for the Kindle Fire.
Video: Kindle Fire with CM7