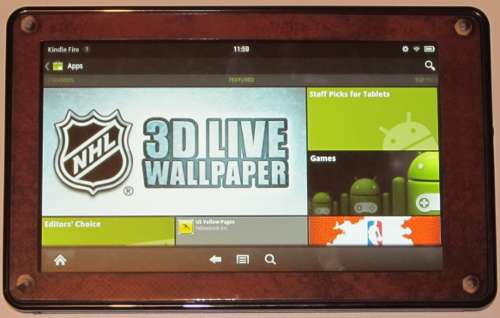 If you've ever considered rooting your Kindle Fire and installing the Android Market to get a richer tablet experience, now is the time to do it because the process is easier than ever and requires virtually no technical work.
I just rooted and installed the Android Market on my Kindle Fire and the entire process took like 5 minutes. And I wrote down everything I did in an easy-to-follow manner so that you can quickly get through the process without getting bogged down in all the misinformation out there too.
At first it was really frustrating because I tried following other people's directions and videos and they were all doing these complicated steps that I don't see the purpose for. I think it's because the directions are from a month ago or more when the process was different. Now the Kindle Fire Utility has everything you need so there's no sense is using the command prompt and downloading all these extra files.
So, for this tutorial I'll focus on the basics—using the Kindle Fire Utility package to root the Kindle Fire and install Google apps, including the Android Market of course. Then I'll put together separate how to guides for installing custom ROMs for CM7 (Android 2.3), and a couple of versions of CM9 (Android 4.0).
After rooting the Kindle Fire and installing the Android Market it's basically the exact same as it is normally, just with the added capability of being able to download apps from Google and being able to use Google apps. I've read about Amazon's videos not working after root but I was able to stream a couple of test videos from Amazon without a problem, so I'm not sure what the deal is with that.
Here's a video showing my Kindle Fire after rooting it and installing the Android Market for those of you wondering what to expect. Rooting is basically gaining access to files normally hidden from the user so that you can make changes to do stuff like adding support for Google apps and the Android Market.
Rooted Kindle Fire with Android Market
Follow these directions at your own risk, and make sure to read them through first before beginning. I'm not responsible if your Kindle Fire breaks or blows up or starts demanding pickles for breakfast.
How to Root the Kindle Fire
1. Enable 3rd party application installs on the Kindle Fire by going to Settings > Device > Allow Installation of Applications.
2. Download the latest version of the Kindle Fire Utility from XDA to your Windows computer and then extract it. I used version 0.9.3 for this tutorial.
3. Open the Kindle Fire Utility folder and double click the install_drivers.bat file. You have to accept the permissions when prompted, including installing drivers from an unknown publisher. This could take a few minutes for the drivers to install; Windows will let you know when it is finished.
4. After the drivers have installed successfully, plug your powered-on Kindle Fire into your computer with a USB cable. It will go into USB connect mode and your computer will recognize it and will say installing drivers. Then auto-run may want to open the Kindle drive but just close the prompt and go back to the Kindle Fire Utility folder and double-click the run.bat file.
If the drivers installed successfully (mine did first try!), you will see a screen like this that says ADB Status: Online:
If it says ADB status offline and doesn't show 4000 for boot status, then there's an issue with the drivers. First, try un-plugging and re-plugging your Kindle Fire's USB cable and see if that works (then you'll have to hit 0 then enter to refresh the utility). If not, see this post at XDA for troubleshooting drivers.
5. Now the easy part: rooting. Hit 2 and then enter to root the Kindle Fire with BurritoRoot. Lots of code will scroll on the screen for a while and then it will let you know when it is finished, at which point you'll be asked to hit any key and the utility will return to the main menu.
Now that your Kindle Fire is rooted, let's move right on to installing Google apps and the Android Market…
How to Install Android Market and Google Apps
1. From the Kindle Fire Utility's main menu, hit 7 and then enter to go to the Extras menu. From there select 2 and then hit enter to install Google apps, including the Android Market, as well as GO Launcher.
This process will take a little while as it downloads the app package and installs everything. At the end it will say it's finished and to hit any key to return to the main menu. The Kindle Fire will automatically re-boot.
At this point you can close the Kindle Fire Utility and unplug the Kindle Fire from your computer because it should now be rooted complete with a whole new Android Market not sheltered by Amazon's whims!
2. Before you can install apps from the Android Market and use any Google apps, you will need to add a Google account to your Kindle Fire. Open up the Sync Settings app (two arrows pointing at each other in a circle) and select "Add account" at the bottom and then select Google from the list and proceed to login.
You'll notice that the Android Market app icon doesn't appear in the Kindle Fire's app drawer or on the carousel. You have to use GO Launcher to get to it from its app drawer.
Installing TWRP and Custom ROMs
The next thing to do after rooting the Kindle Fire is to head over to this second tutorial to install TWRP Recovery to create backups and to install custom ROMs.
This section will be updated to include links to future tutorials and videos for installing custom ROMs on the Kindle Fire. Subscribe to keep updated.