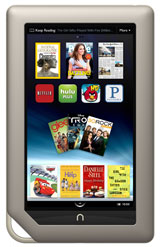 A couple weeks ago Barnes and Noble released an 8GB Nook Tablet for $199 to go along with the original 16GB Nook Tablet for $249.
It turns out that rooting an 8GB Nook Tablet doesn't work with the same method as the original Nook Tablet—it's a good way to brick it, though—because the process is setup for a 16GB Nook only. The good news is there's now an easy method to root an 8GB Nook Tablet too, thanks to the developers at XDA, notably jichuan89.
The complete directions for rooting an 8GB Nook Tablet and adding the Android Market and Google apps can be found on this thread at XDA.
Basically you just need to burn an image onto a microSD card and then insert it into a powered-off 8GB Nook Tablet, then turn it on and give it a couple of minutes—that's it. You've now got a rooted Nook Tablet with the Android Market, which grants access to several million more apps than are available through Barnes and Noble's Nook appstore.
Although it voids the Nook's warranty, rooting also opens up access to files normally hidden to the user so you have more control over your tablet and what apps can be installed and what you can do with it. Rooting opens up the possibility of installing ROMs for alternate versions of Android such as CM7 for Android 2.3 and CM9 for Android 4.0 Ice Cream Sandwich. Last week I posted a review and install guide for CM7 on the Nook Tablet and it runs exceptionally well. Just make sure to use packages made for the 8GB Nook Tablet if you decide to try ROMs.
Video: How to Root an 8GB Nook Tablet